Torrential rain has hit Germany, France and Austria leaving hundreds of pupils stranded in their schools and families have been forced to scramble to their rooftops to escape the rising deluge.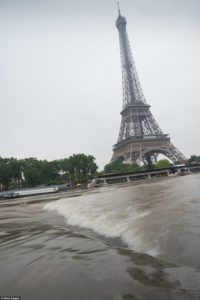 Several areas in Paris were under red alert as the Seine River burst its banks in several places after four days of almost non-stop rain caused severe flooding in the central Loire Valley area and southeast of the French capital.
Incessant rain in regions of Germany, France and Austria led to flash flooding on Wednesday, leaving hundreds of pupils sleeping at school overnight as access roads were blocked.
In southern Bavaria state on the Austrian border, firefighters and other emergency services were dispatched to inundated towns.
"The floods came so quickly that people had to escape to the roofs of their houses," a spokesman for the Lower Bavaria regional police said, adding that many streets were submerged.
The town of Triftern, around 200 schoolchildren bunked down in their school, preparing to spend the night, when road access became restricted. A town spokesman said the school building itself was out of danger as it was on higher ground.
A separate group of 27 children on a class trip together with two teachers and a chaperone ran into trouble on a boat trip down the Regen river.
Their group of 12 boats became separated in the raging current sparked by a sudden storm and panic broke out among the pupils.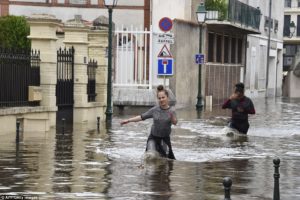 About 20 members of the group had to be rescued by emergency services, while the others were able to reach the riverbank on their own.
Just over the border in Austria, heavy rain lashed the Salzburg region, flooding several roads and forcing several schools to announce closures for Thursday.
And in central France, residents called in emergency services 8,000 times in recent days to demand assistance due to flooding.
In Paris, many promenades along the Seine were closed due to high water while in Nemours, 80 kilometres (50 miles) to the south, residents had to be evacuated Wednesday afternoon after the Loing river burst its banks.
The neighbouring Loiret region saw the average rainfall of six weeks in just three days and Chambord, the Loire Valley's best-known Renaissance chateau and a tourist magnet, was surrounded by rising waters.
The A10 Paris-Bordeaux motorway and rail lines north of Orleans were cut by floods, as was the main rail line from the eastern city of Metz to Luxembourg. Residences, schools and a retirement home were evacuated in the town of Montargis, 110 km (68 miles) south of Paris.
The national weather service said France had endured the wettest month of May since records began 150 years ago.
Emergency services have responded to some 8,000 call-outs, Interior Minister Berhard Cazeneuve said. Officials said the Seine was set to rise to a peak level of 5.60 metres on Friday, below the 6.00 metre level that would flood the RER underground railway and far below the 8.60 metre record hit in 1910.