Just as controlled fires are used to stop larger bush fires, researchers are embracing the use of water-laden components to make dams and control flooding.
Flood-prone Netherlands, in the bid to adapt to its peculiar situation, is adopting alternatives to the traditional sandbags, which are being replaced by a range of innovative "waterbags" as flood defences.
Courtesy of the Flood Proof Holland (FPH), local and international scientists and inventors at the 4th International Climate Change Adaptation Conference that held recently in Rotterdam demonstrated numerous variants of the damming  mechanism.
The FPH is a test facility for innovative temporary flood defences, allowing entrepreneurs to test and use their inventions in a real life environment. FPH is created in close cooperation with the Delft University of Technology.
No fewer than seven innovations were presented to participants at the week-long forum also referred to as: "Adaptation Features 2016" and themed: "Practices and solutions."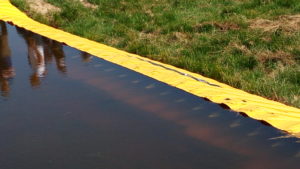 Some of the flood defences include: BoxBarrier, SlamDam, Tube Barrier, Mobile Dyke, Grassblock and Velox.
The BoxBarrier is a modular flood defence that consists of box elements, which are connected by joint elements. The boxes are filled with water and covered by a lid.
An official of BAM Infraconsult, which is promoting the use of the product, says: "The BoxBarrier is a very effective temporary flood defence system, which can be used to temporarily heighten the crest of a dike, or to make a temporary dam on a flat terrain. This increased crest height prevents flooding of the areas behind the dike. The concept of the BoxBarrier is characterised by easiness, because it makes use of its opponent: it retains water with water."
The SlamDam is a mobile emergency dam which can be set up quite easily by two people as soon as there is threat of flooding , and can also be dismantled when the risk of flooding decreases.
Its promoters say that in addition to being deployed in the fight against flooding, the product can be use to contain contaminated being used for firefighting, and also prevent nearby land or waterways from being contaminated in the event of disaster.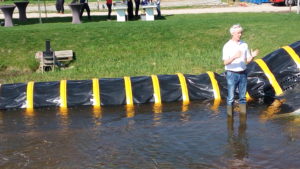 A source at SlamDam B. V. discloses: "For centuries, we have been using sandbags in order to protect us from floods. But why are we still using this ancient method? With the current technique, the job can be done a lot faster and more efficiently with the SlamDam, which is an innovative flood defender, developed to handle flood in a quick and efficient and labour-saving way."
The Tube Barrier is a flexible filled up with water, transforming it into a dam. The flexible tube is segmented in chambers and can be made as long as desired.
"The Tube Barrier is adaptable to local context, is low-tech, user-friendly, easy to install and store, and has a quick response time," stresses the demonstrator.
Similarly, the Mobile Dyke modules are connected to each other to form a stable chain and filled with water. The system, which consists three material layers to provide a high safety reserve, is available different heights from 45 up to 260 centimetres.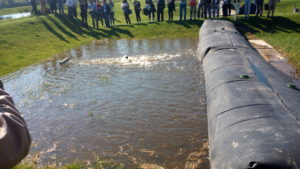 But the Velox is a flat component that deploys automatically with the upcoming water, and transformed into a barrier. The water stabilises the barrier immediately, and is kept into position by its own weight.
The barrier, it was gathered, can be used for both controlling floods and deviating streams.
The Grassblock is a composite revetment consisting of a porous concrete base covered by earth with a top layer of grass. This creates a surface with a green look which still offers extra durability against hydraulic forces such as wave attack and overtopping.