Djam Wilfred Chiatoh is a fish farmer from the central region of Cameroon. He is also an animal production specialist but, after 12 years of poultry, pig and rabbit farming, coupled with a loss of over 2,000 pigs to African swine fever, he ventured into fish farming in 2016.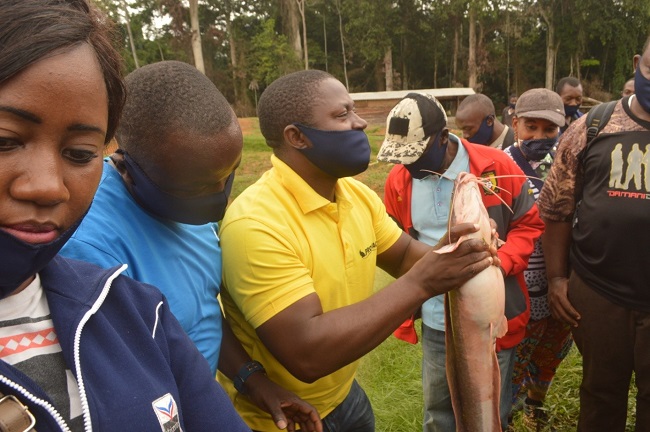 The first challenge he faced was raising the necessary investment capital. Upon drafting a feasible business plan and negotiations with a few partners, the capital to start up NIREX Cameroon Farms Limited was raised.
Due to limited availability of fingerlings in Cameroon, NIREX Farm swung into fingerlings production and built a catfish hatchery. Getting a trained professional to recruit and take charge of the production process of 200,000 catfish fingerlings per year proved another herculean task as most young people interviewed only had knowledge of fish farming with zero practical experience.
Other challenges faced by the young farm, located in Mbalmayo, Nyong et So'o Division of the Centre Region in Cameroon, included poor access to quality parent catfish and tilapia, non-availability of quality larvae, fry, fingerlings and parent feed, poor knowledge of mono sex male tilapia production technology, and lack of access to training facilities.
After years of experimental processes, the farm established contact with the Aquaculture Compact of Technologies for African Agricultural Transformation (TAAT) early 2019.
Sponsored by the African Development Bank as part of its "Feed Africa Initiative", TAAT's main objective is to improve the business of agriculture across Africa by raising agricultural productivity, mitigating risks and promoting diversification and processing in 18 agricultural value chains within eight priority intervention areas.
The programme increases agricultural productivity through the deployment of proven and high-performance agricultural technologies at scale along selected nine commodity compacts which include aquaculture.
Led by the WorldFish Centre, TAAT Aquaculture Compact (TAC) disseminates aquaculture technologies that increase value chain actors' productivity, increasing fish protein consumption and enhancing sustainability across the value chain.
NIREX Farm participated actively in the training on cage culture system and tilapia production organised by TAC in Cameroon. The farm equally benefited from a one-week training on fish breeding in Abbassa, Egypt. The training provided an opportunity to enhance participants' knowledge and understanding on how to improve fish productivity through a breeding programme.
Participants at the Abbassa training also learnt how to select and manage brood stock for production of quality fingerlings and fish production as well as how to put in place a long-term developmental programme for fish production by private investors.
Upon their return to Cameroon, NIREX Farms team adopted the new technologies and better management practices acquired from the training. The farm modified its infrastructure to start producing tilapia mono-sex male fingerlings and within 12 months, it produced over 230,000 mono sex male tilapia fingerlings.
"With the adoption of these technologies leading to enhanced technical skills in production of mono-sex tilapia fingerlings, the farm recorded an income of $27,000 in 2019," Wilfred said.
The farm also introduced these fingerlings to other fish farmers especially the members of the fish farmers cooperative in the Centre region of Cameroon. "Over 70 fish farmers benefited from the training we conducted on the adoption of mono sex male tilapia and we are currently backstopping 10 fish farms growing tilapia mono sex, with one practicing cage culture, in the region," Wilfred added.
NIREX also installed a 4 m3 TAC demonstration cage culture system in a river close to its farm and harvested two batches (400kg) of fish from the cage.
With technical support from TAC, the farm is already extending its tentacles across the country and making exchange visits to other farms in Nigeria to better understand adaptable technologies. The farm is working towards a catfish and tilapia breeding program in collaboration with the Cameroonian government and the TAC team. In recognition of NIREX farms' contributions to the sector, Fish Farmers Cooperative for the Centre Region of Cameroon (SOCOPIC COOP-CA) elected Wilfred as its secretary general.
Prof. Bernadette Fregene, leader of the TAAT Aquaculture Compact, expressed satisfaction with the fact that her compact's intervention in Cameroon has recorded stable production of Tilapia mono-sex male fingerlings, cage culture system of tilapia table fish, improved production of catfish fingerlings leading to improved income and networking for farmers.
"Going forward, the compact intends to work with the Cameroonian government and partners to scale up fish productivity enhancing technologies across the country, train more farmers on the production of on-farm fish feed and fish conservation (smoking) and collaborate with the Livestock Ministry to produce reference documents on fingerlings standards in Cameroon," Prof. Fregene affirmed.