At the cost of $80 million and within a six-month construction period beginning in the New Year, the Abuja real estate market will be increased by 300 units of housing under the initial phase of a collaboration involving the Federal Government and a firm of property developers originating from the United Arab Emirates (UAE).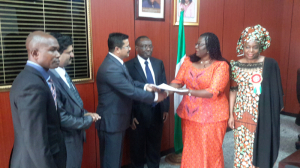 An agreement to this effect was signed recently in Abuja, the Federal Capital City, by the Minister of Lands, Housing & Urban Development, Akon Eyakenyi, and Anand Ramani of the Dubai-based Signature Value Homes Limited. Minister of State for the Federal Capital Territory (FCT), Jumoke Akinjide, witnessed the ceremony
The project will be implemented under the Public Private Partnership (PPP) arrangement with government providing land and the developers financing the development.
The estate, a mixed-use development, will be built on a 20 hectares (ha) free and unencumbered land situated at Gwagwalada in the FCT. It will feature one-, two- and three-bedroom apartments on four floors comprising approximately 1,672 dwellings.
Akinjide praised Eyakenyi for what she termed an "uncommon transformation" of the housing sector in the country. According to her, the FCT Ministry has confidence in the quality of houses being provided by the Housing Ministry in the light of "the ministry's good work done in other projects".
While thanking Akinjide for being part of the event, Eyakenyi remarked that the Housing Ministry is effectively utilising the lands allocated to it by FCT.
Signature Value Homes Limited is a mass housing project developer entity that specialises in providing holistic solutions for integrated community development, according to the firm. The company had presented a profile of successfully executed projects in India and sub-Sahara African countries. The company, which is also engaged in mass housing development with the Niger State Government, has technical and engineering partnership with Mahindra Consulting Engineers and construction partnership with Klassic International.
In November, the firm made a technical presentation to the Housing Ministry, which eventually gave the go-ahead for the project, in the belief that Signature Value Homes is technically capable and has the financial capacity to undertake the scheme.
Under the Housing Ministry's PPP Unit – the vehicle through which it builds mass housing – government provides land and developers build according to agreed specifications.