The Federal Capital Emergency Management Agency (FEMA), FCT Administration, has stressed the need for an inclusive approach to disaster risk reduction, response and management in the territory.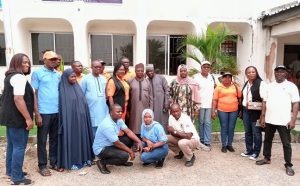 Mrs Florence Wenegieme, Director, Forecasting, Response and Mitigation in the Agency, gave the charge during a sensitisation campaign to commemorate the 2023 Internal Day for Disaster Risk Reduction (IDDRR) in Gwagwalada on Thursday, October 5.
Wenegieme explained that the inclusive approach to disaster management was in line with IDDRR theme: "Fighting Inequality for a Resilient Future for All".
She said previous focus was on good governance, early warning systems, economic loss, adding that this year's campaign focuses on human beings.
This, according to her, is to ensure that no one is left behind during emergencies, particularly vulnerable groups like children, pregnant women, the blind, the aged, and people living in disaster prone areas.
She said that during emergencies everyone is for himself leaving the vulnerable ones to their fate.
"This has to change. Let us be our brother's keeper by reaching out to the vulnerable ones during emergencies and help them to safety and save their properties where feasible.
"That is why this year's campaign is on us, the human beings, for us to know how to manage our environment, how to manage hazards before they turn to disasters.
"For inclusion, our targets for the sensitisation are the traditional and religious leaders, women and youth groups, vanguards, local divers, disaster marshals, including children and persons with disabilities.
"It is expected that after the sensitisation, the participants will step down the knowledge to their various communities for all to be on the same page," she said.
The director said the weeklong sensitisation campaign across the six Area Councils of the FCT would enable residents identity common hazards within their environment and how to prevent or mitigate them.
"We began on Oct. 4 with Abaji Area Council, today we are in Gwagwalada Council and tomorrow we will be at another area council until all are covered.
"Last year about 600 lives were lost to disasters across the country, but FCT recorded zero death due to sustained awareness campaigns on disaster risk reduction," she said.
She identified some of the disasters as flooding, fire outbreaks, building collapse, epidemic outbreaks, and other forms of human induced disasters.
Responding, Mr Abubakar Giri, Chairman, Gwagwalada Area Council, promised to work with FEMA to reduce the risk of disaster in the area.
Giri, who was represented by his Chief of Staff, Mr Mohammed Kassimu, said that the council would embark on massive awareness creation on how people can avert disaster.
By Philip Yatai