The All Farmers Association of Nigeria (AFAN) and the Miyetti Allah Cattle Breeders Association of Nigeria (MACBAN) have welcome the Federal Government's ranching plan across 10 states.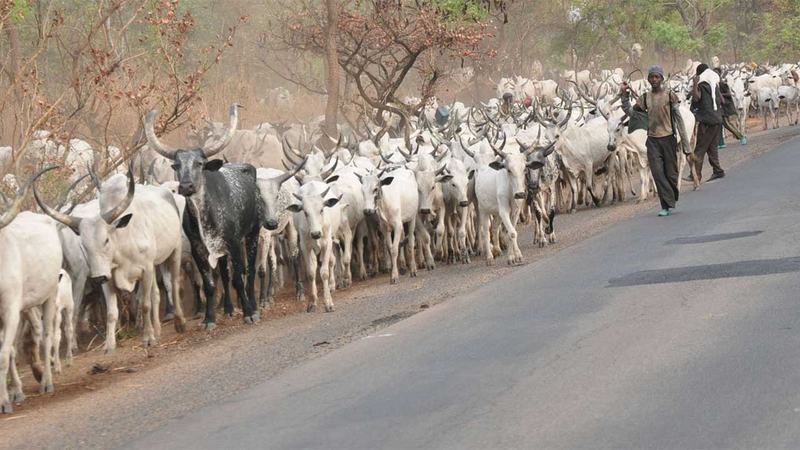 They hailed the plan in Abuja on Thursday, July 12, 2018 while briefing journalists at the end of a National Executive Council (NEC) meeting between the associations.
Speaking at the briefing, the National President of AFAN, Alhaji Kabir Ibrahim, said that it would be a step in the right direction if herdsmen were carried along in the planned establishment of the ranches.
"We welcome the idea of ranch development with input from the end-user and are amenable to sitting down with experts to add value to government's effort.
"End-users means the herders, people who have the livestock that needs to be ranched, sit with them, find out the best ways then do a ranch.
"So, before you ranch, talk to the people, look at their idiosyncrasies, put them together, then you have a ranch that will work perfectly.
"But my sense as a business man is that ranch is a business decision, whoever wants to come in will pay a price after negotiations, then, the ranch will work as a single whole.
"That is what we should do in Nigeria. The government cannot do ranches all over the place for all of the people who have ranches in Nigeria, no way.
The National Secretary of MACBAN, Baba Othman Ngelzarma, said the association would never support or be part of any criminal activity in any part of the country.
He said the association would support government's decisions targeted at ending the conflicts between farmers and herdsmen nationwide.
"We will never support, and we will never condone any criminality so we are in line with what the president of AFAN has said and we are in line with any policy of the Federal Government that will bring to an end of these crises in Nigeria.
The News Agency of Nigeria (NAN) reports that a 14-man committee drawn from AFAN and MACBAN was formed to fashion out ways for sustainable peace between herders and farmers.
NAN recalls that the Federal Government at its National Economic Council (NEC) meeting had approved the establishment of 94 ranches in 10 states prone to herdsmen/farmers clashes.