"As you look into the future to appreciate that knowledge is at the heart of Nigeria's and Africa's development, you must join the Global Agenda for Development. You must build on your strong foundation through collaboration and partnership that are the norm globally."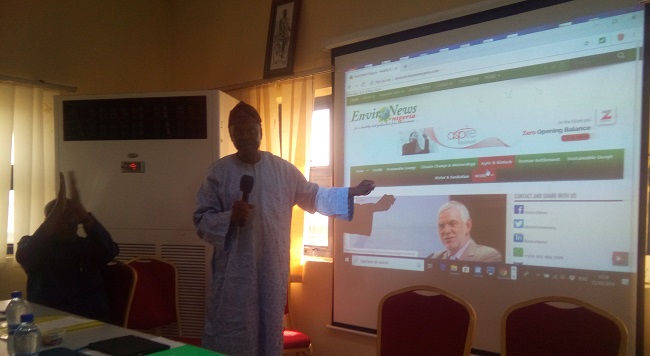 Those were the words of Prince Lekan Fadina, Executive Director, Centre for Investment, Sustainable Development, Management and Environment (CISME), as he performed the formal launch of EnviroNews in Lagos on Thursday, May 2, 2019.
The launch held during the Media Training Workshop on Climate Change and Renewable Energy Reporting organised by EnviroNews Development Network (ENDENET) in collaboration with the Global Greengrats Fund.
Fadina, a sustainable development expert and climate change negotiator, added in a presentation at the event: "It is through these that we can master the challenge of the future that will be increasingly defined by information, communication, the digital world, sustainable development, climate change, green economy, gender equality, low carbon world, green jobs, technology and knowledge cities.
"EnviroNews has a great role to play in weathering the storm and assisting in providing appropriate information that will help businesses to develop resilience to Climate Change.
"EnviroNews has been a veritable information platform for many pre-event and post-conference reports of the United Nations Framework Convention on Climate Change (UNFCCC).
"EnviroNews covers virtually all areas of human endeavour including Climate Change, Renewable Energy, Oil and Gas, Water and Sanitation, Agriculture, Biotechnology, Culture, Conservation, Human Development, Human Welfare, Human Settlement, Real Estate, Health, Disaster Management, Risk Reduction, Sustainable Development, Science and Technology, Marine, including Radio and TV reports.
"EnviroNews has, over the years, become one of the major news magazines in Nigeria and globally for unique and up to date information, education, and awareness creation on topical environmental and development issues. One of the greatest assets of EnviroNews is the team of reporters and guest writers in major cities of the world. This global team of competent and accomplished writers have added intellectual depth and raised standard of the business.
"EnviroNews has particularly helped to boost Nigeria's image in the areas of Climate Change, Environmental Management and Diplomacy. It has provided a credible platform to publicise and cover various activities of government, business, civil society and their principal players.
"EnviroNews website is a credible resource for information dissemination through its daily newsletter and Social Media platforms. It has helped inspire the creation of related news sites in Nigeria and beyond.
"There are people and institutions that we deserve to thank for their roles and contributions to the EnviroNews success story. They include the Federal Ministry of Environment especially the Climate Change Department, the United Nations Development Programme (UNDP), the Nigeria REED+ Programme, and several others too numerous to mention here.
"I will like to appeal to institutions, governments, private sector players, non-goverment organisations and individuals to assist the EnviroNews move to the next level. EnviroNews can be a good medium for dissemination of information of your corporate social responsibilities.
"I salute the courage, commitment, initiative, vision, and above all the sacrifice of a pioneer, Mr. Michael Simire, the brain behind EnviroNews.
"I congratulate the management and staff of EnviroNews for this great achievement. I pray that your efforts will be rewarded and will yield good returns on investment.
"Ladies and gentlemen, please join me as I launch EnviroNews to the glory of God and continuous service to humanity."