Delegates from over 190 countries at the ongoing Lima global climate talks have, ironically, come under serious pressure from the weather with extreme heat trailing the negotiations. As negotiations opened on Monday morning, delegates immediately found themselves on the hot seat as IPCC chair Rajendra Pachauri challenged delegates to "come to terms" with the fact that staying below the 2°C target requires zero or negative emissions, relative to 2010 levels, by 2100.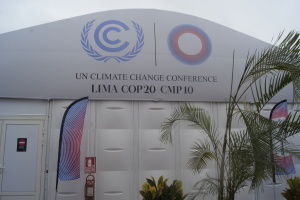 The literal heat of the venue prompted one delegate to exclaim: "This is just like a greenhouse and this is exactly what's happening to our planet."
"Last October, those of us who were at the Convention for Biological Diversity COP in Pyeongchang, South Korea, were subjected to cold temperature extremes; now we're being tried by fire," complained another.
Yet, while many took off their jackets following the COP President's exhortation, one observer lamented: "The generic opening statements did not signal that delegates were ready to roll up their sleeves."
Some participants suggested that Lima's success will hinge on the "long overdue fulfilment of promised leadership roles," with others pointing to "positive signals" of emission reduction or limitation targets announced by the EU, the US and China, and the pledges of US$9.7 billion for the GCF.
"The heat is on," said Sam Ogallah of the Pan-African Climate Justice Alliance (PACJA). "We'll see if these signals will restore trust and facilitate progress toward an agreement in Paris over the next two weeks."
Expressing concern on the pressure from the climate in Lima, Xolisa Ngwadla, Africa's lead negotiator on the new legal agreement, averred that "the 2C global goal poses a lot of risks for Africa. The IPCC has showed that 2C of warming means substantial adaptation measures are needed in Africa to ensure food security and support sustainable development."
"Given those risks, adaptation must be central to the post-2020 agreement and we need far greater transfers of finance and technology to countries who are particularly vulnerable to adverse effects yet have little historical responsibility for climate change," Ngwadla added.
"I'm afraid this conference may end up in failure, just like Copenhagen," PACJA's Robert Chimambo thundered. "Divisive strategies and trump cards such as the Intended Nationally Determined Contributions (INDCs) being proposed by developed countries confirm our initial fears in Africa that this conference has been pre-planned to fail."
In addition to the heat pressure and discordant tunes coming out from Lima is the apparent absence of common agreement on what constitutes climate finance. Japan has spent $1 billion of its climate financing on new power plants in Indonesia that burn coal, saying it improves the environment because the new plans burn cleaner, but according to an activist with the Global Campaign to Demand Climate Justice, Alex Rafalowicz, "coal, or any dirty and harmful energy has no place in climate finance."
The U.N.'s weather agency is expected to present temperature data showing 2014 could be the hottest year on record. Peru is among the countries most affected. The Andean nation has 70 percent of the world's tropical glaciers, which have lost more than a fifth of their mass in just three decades, putting 300,000 highlanders under severe stress as pastures and croplands dry up, the planting cycle becomes more erratic and cold snaps more severe. Lima is the world's second-largest desert capital after Cairo, Egypt, and its 10 million inhabitants depend on glacial runoff for hydropower and to irrigate crops.
The degree to which Lima talks will succeed will depend on the capacity of the negotiators  to harmonise separate action plans from up to 190 countries into a single acceptable and workable agreement. If the talks are to succeed, they will have to come up with a draft text that outlines the structure of that agreement – how to ensure countries commit to deep enough cuts to limit warming to the 2C goal, and how to verify their actions.
The US is pushing for a deal that would avoid setting emissions reduction targets that are legally binding under international law, because that would set up a clash with congress. Many developing countries, however, insist on legally binding targets. They also argue that only the industrialised countries should have to cut emissions.
By Atayi Babs (PAMACC)