Delegates at the UN Biodiversity Conference in Sharm El Sheikh, Egypt, on Thursday, November 22, 2018 at a side event celebrated the 15th anniversary of the Cartagena Protocol on Biosafety to the Convention on Biological Diversity.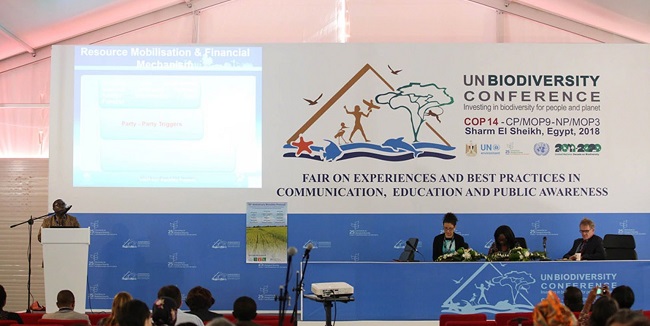 Participants at the gathering, among other functions, explored key successes achieved under the Biosafety Protocol. Ulrika Nilsson of the CBD Secretariat, who opened the celebration and moderated the event, listed these to include: a fully operational Biosafety Clearing-House; the progress made by Parties in the context of public awareness, education, and public participation at the national level; and the entry into force of the Nagoya-Kuala Lumpur Supplementary Protocol on Liability and Redress.
Delegates, in their comments, made noteworthy revelations relating to the impact and progress of the Protocol on their endeavours and countries.
For instance, Alex Owusu-Biney, UNEP-Global Environment Facility (GEF) – Biosafety Projects, underscored that the Protocol sets out a comprehensive framework for international cooperation on the safety of transboundary movements of living modified organisms (LMOs) and noted that the Protocol strikes a balanced approach to meet the needs of consumers, industry and the environment.
He noted that the precautionary principle is an essential component of the Cartagena Protocol, underscoring that risk assessment processes, information sharing, public awareness and participation are key to fulfilling the Protocol's objective of safe transfer, handling and use of LMOs. He noted that the GEF capacity building projects are divided between thematic and regional, highlighting that it is important for Parties to get well acquainted with their rights and obligations under the Protocol.
He mentioned that capacity building projects aimed at: ensuring a vibrant participation process; provision of technical tools to support national decision making on biosafety; and disseminating recommendations, best practices and feedback for replication.
Georgina M. Catacora-Vargas, Ministry of Environment and Water, Bolivia, showcased biosafety from an integral approach in reviewing the regulation of LMOs in Bolivia. She reported that legislation developed in 2009 forbids genetically modified organisms (GMOs) in her country. She highlighted that the introduction of technological agricultural packages containing genetically modified seeds present a risk to Bolivia's rich genetic patrimony, to ecosystems and human health. She referred to her country's law forbidding GMO-based food in schools and legislations that forbid activities related to GM maize, due to the risk of gene flow into native maize varieties.
Ntakadzeni Tshidada of the Department of Environmental Affairs, South Africa, highlighted that 100% of cotton and 95% of soybean in South Africa is genetically modified. She also reported the prevalence of GM-derived medicines in South Africa's market, including anti-cancer agents and vaccines.
She noted her country's progress towards facilitating the establishment and further development of an effective biosafety system, stressing that South Africa's 2005 National Biodiversity Strategies and Action Plan (NBSAP) integrated biosafety activities. She underscored that the GMO Act provides for measures to promote the responsible production, use and application of GMOs.
She further noted that several universities in South Africa have included biosafety into their curriculum, highlighting a study carried out to assess public perception of biotechnology and how this information can inform new biosafety strategies.
Guy van den Eede of the European Commission (EC) introduced a detection training programme launched by the EC's Joint Research Centre, in 2000, to assist EU Member States and Third Countries to address analytical challenges required to implement the requirements of the EU regulatory framework on GMOs. He also highlighted achievements of the "Global Harmonisation of GMO Analysis Support to Regional Networking" Project, including: the establishment of new networks of GMO laboratories; regional testing projects and capacity-building initiatives; and the mapping of regional technical capacities.
Cristiana Paşca Palmer, CBD Executive Secretary, via video, highlighted the successes of the Convention relating to LMOs, including: experience in detection and identification of LMOs; awareness raising; participation in decision making on socio-economic considerations; and risk assessment on LMOs. She urged everyone to celebrate the 15th anniversary of the Protocol's entry into force to further enhance its visibility and implementation.
Ho-Min Jang of the Korea Biosafety Clearing House (KBCH), Republic of Korea, via video, said the KBCH has played a catalytic role in the implementation of the Protocol. He noted that the Republic of Korea has approached, through the KBCH, other Asian countries to promote regional collaboration on biosafety issues. He stressed that such collaborative initiatives would enhance the global implementation of the Protocol.