All roads will on Thursday 27th September 2012 lead to the University of Lagos, Akoka, venue of the "ARTing Climate Change" event being organised by Zero Carbon Africa (ZCA).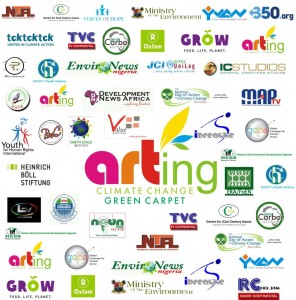 The initiative is a green carpet event tailored to showcase climate change impacts on different sectors of the Nigerian society using art – music, interpretative dance performance, poetry, sharing of real experiences and video documentary with local content. It is aimed at raising awareness about climate change and inspire positive actions among young people during the "National Day of Action on Climate Change" on 25th October.
Zero Carbon Africa (ZCA) is an alliance of youth-led/focused organisations and young people committed to championing grassroots solutions to climate change and empowering young people on environmental sustainability issues across Africa. We hosted the first ever Nigerian Youths Teleconference in the history of youth participation at the United Nations Climate Change Conference in Durban, South Africa, and an online radio broadcast campaign "Echoes from Rio" live from Rio de Janeiro, Brazil during the Earth Summit (Rio+20) in June, 2012 to increase the quality of African youth participation at the conference.
The event will be graced by representatives and dignitaries from both the State and Federal Government, leading environment experts including Nnimmo Bassey – Environmental Rights Action; Christine Kay – Heinrich Boell Foundation; Tunde Ojei – Oxfam Nigeria; directors of Committee for Relevant Art (CORA); youth environmentalists; renowned photographers; movie-makers; and over 1,000people from difference states across
Nigeria.