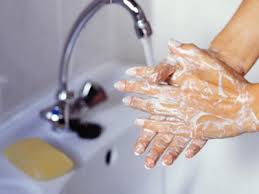 Regular washing hand and use of sanitisers would eradicate polio, prevent pneumonia, typhoid fever, Hepatitis B and water born diseases, says Dr Rilwanu Mohammed.
Mohammed, who is the Executive Secretary, FCT Primary Health Care Board, made this known to the News Agency of Nigeria (NAN) in Abuja on Friday.
He said that the awareness created on Ebola Virus Disease (EVD) prevention had made schools and other corporate organisations to provide fever testing kits and hand sanitisers.
"The use of hand sanitisers by schools will address the common problems of eating bacteria and jams due contamination on the children's hands.
"This would prevent diarrhoea, cholera, typhoid fever, polio, Hepatitis B and other water born diseases," the expert said.
He explained that malaria, pneumonia and any form of fever would be contained at the point where more students or pupils would not be affected by the disease any longer.
"Most of the communicable diseases enter our system through our hands; therefore, regular washing of hands would reduce these risks," he said.
Mohammed said that sustained habit of regular washing of hands and use of sanitisers would control the chemical transmission into our body.
He advised mothers to prevent growing babies from taking particles into their mouth arbitrarily.
"The child exploring the environment would like to take everything to his mouth to test and see whether it is milk.
"It is there they get polio easily. It is the duty of the society to control open defecation and save our children from polio and other communicable diseases," Mohammed said.
Besides, he said that infant mortality had decreased from 70 to 69 per 1,000 deliveries, while maternal mortality had increased from 545 to 645 per 1,000 live births.
He said that when women delivered they should be admitted for three days to check for blood pressure, bleed and other clot of blood, but it is not being done now due to over stretch of health facilities in the FCT.
A recent report said that the primary healthcare (PHC) facilities in the FCT are not working according to the WHO standards.
"We found out that only 30 per cent are working. The 215 healthcare centres had 1,002 staff against 4,098 required under the WHO standards.
"Eighty per cent of the PHCs in the FCT need to be renovated due to long term disuse, while 27 per cent are working,'' Mohammed said.
According to him, the proposed national health fund would strengthen PHCs with 50 per cent funding.
"It (the special fund) will enable us to provide basic primary health care services such as provision of staff, essential drugs, ambulances, training and re-training of staff, among others,'' he said.
Mohammed said that the fund is aimed at reaching pregnant women, children under the age of five, disable and other vulnerable groups who don't have access to healthcare services monthly.