British architect Zaha Hadid has died aged 65, following a sudden heart attack.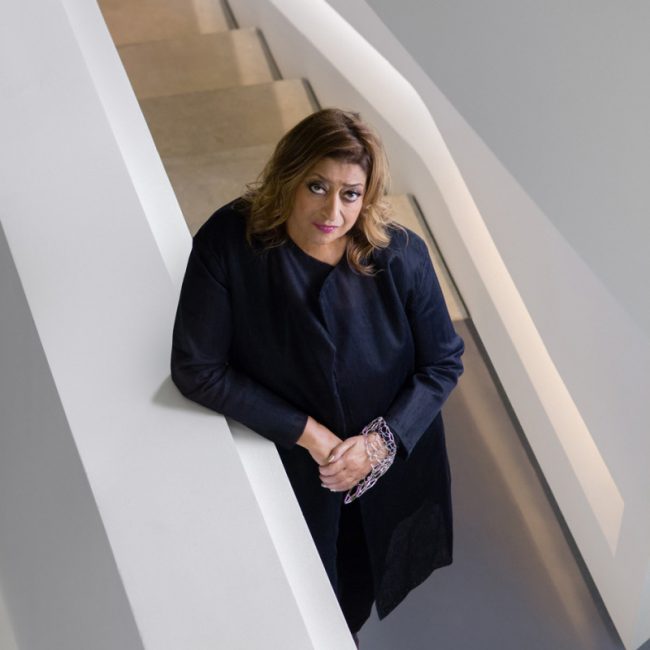 Ms. Hadid, the designer of buildings including the London Olympic Aquatic Centre and the MAXXI National Museum of XXI Century Arts, suffered a heart attack on Thursday morning while being treated for bronchitis at a Miami hospital.
A statement released by her office said: "It is with great sadness that Zaha Hadid Architects have confirmed that Dame Zaha Hadid, DBE died suddenly in Miami in the early hours of this morning."
The Iraqi-born architect is one of the most successful female architects in history, and this year became the first woman to receive the Royal Gold Medal for architecture in her own right.
Hadid was born in Baghdad in 1950. After graduating from the Architectural Association in 1977, she joined her former professors, Rem Koolhaas and Elia Zenghelis, at OMA. She established Zaha Hadid Architects in 1979, which she ran with Patrik Schumacher.
Significant early projects included The Peak in Hong Kong (1983), the Kurfürstendamm in Berlin (1986), and the Cardiff Bay Opera House in Wales (1994) – but she garned most attention for her Vitra Fire Station in Weil Am Rhein, Germany (1993).
In the last decade, she has completed the Guangzhou Opera House in China (2010), the Dongdaemun Design Plaza in South Korea (2014), and the Messner Mountain Museum Corones in Italy (2015).
Hadid's many accolades include the Pritzker Prize, which she was awarded in 2004. She received the Republic of France's Commandeur de l'Ordre des Arts et des Lettres, Japan's Praemium Imperiale and in 2012 was made a Dame Commander of the Order of the British Empire.
She has also won the Stirling Prize, Britain's most prestigious architecture award, on two occasions. Firstly in 2010 with the MAXXI Museum in Rome, and again in 2011, for the Evelyn Grace Academy in London.
Hadid taught architecture at schools around the world, including the Graduate School of Design at Harvard University, the University of Illinois, Columbia University, Yale University and the University of Applied Arts in Vienna.
Archigram founder Peter Cook, who nominated Hadid for the Royal Gold Medal, described her as "our heroine".
"For three decades now, she has ventured where few would dare," he said. "If Paul Klee took a line for a walk, then Zaha took the surfaces that were driven by that line out for a virtual dance."
Architects Daniel Libeskind and Richard Rogers are among those paying tribute to Zaha Hadid, after news broke today of her death at the age of 65.
"Devastated by the loss of a great architect and colleague today," said Libeskind. "Her spirit will live on in her work and studio. Our hearts go out."
Richard Rogers told The Guardian newspaper that the news of Hadid's death was "really, really terrible".
"Among architects emerging in the last few decades, no one had any more impact than she did. She fought her way through as a woman," he said. "She was the first woman to win the Pritzker Prize. I got involved with her first in Cardiff when the government threw her off the project in the most disgraceful way. She has had to fight every inch of the way. It is a great loss."
Other architects to pay their respects include Frank Gehry, who described Hadid as a "great architect and a great friend", and Herzog & de Meuron, who said she will "leave an indelible mark on that extraordinary moment in the history of architecture".
Amanda Levete called the architect as a "dear and loyal friend" and "one of the most extraordinary talents of our time".
"Her global impact was profound and her legacy will be felt for many years to come because she shifted the culture of architecture and the way that we experience buildings," said Levete.
"She was an extraordinary role model for women. She was fearless and a trailblazer – her work was brave and radical. Despite sometimes feeling misunderstood, she was widely celebrated and rightly so," she added. "I will miss her deeply, as will the world of architecture."
French architect Odile Decq, who was named as this year's Jane Drew Prize winner for her role in promoting women in architecture – an award given to Hadid in 2012 – also paid tribute.
"[Hadid was] the first 'Grande Dame de l'architecture' and a great figure in many ways," she told Dezeen. "She has opened so many doors for women in architecture. She has become free and without any fear after having been forced to fight against sexist attitudes. Her architecture reveals her own freedom."
Royal Institute of British Architects president Jane Duncan told the BBC that Hadid had "made space fly" with "unbelievable" designs.
In a statement to Dezeen, Duncan said: "Dame Zaha Hadid was an inspirational woman, and the kind of architect one can only dream of being," she said. "Visionary and highly experimental, her legacy despite her young age is formidable."
"She leaves behind a body of work from buildings to furniture, footwear and cars, that delight and astound people all around the world," added Duncan. "It was only last month that I had the enviable task of awarding Zaha the 2016 Royal Gold Medal for architecture – she was delighted to receive the recognition and added the medal to an amazing collection of awards, not least winning the RIBA Stirling Prize two years running. The world of architecture has lost a star today."
Serpentine directors Julia Peyton-Jones and Hans Ulrich Obrist, who commissioned Hadid to build the Serpentine Sackler Gallery have also released a statement.
"Her contribution to architecture as a pioneer and visionary cannot be overstated, and barely a week goes by without a landmark building opening somewhere in the world," they said.
"Zaha Hadid was not only a great architect but also a great artist and she leaves an extraordinary body of work not only as built form but also paintings and drawings where she often explored the ideas that would later be transformed into architecture," they added. "We are honoured to have collaborated with her on numerous occasions and her loss will be deeply felt by us and the world over."
Numerous architects, designers and industry figures have paid tribute to Hadid on social media.