The Environmental Rights Action/Friends of the Earth (ERA/FoEN) is committed to rolling back the Public Private Partnership (PPP) arrangement in Nigeria being test-run in Lagos.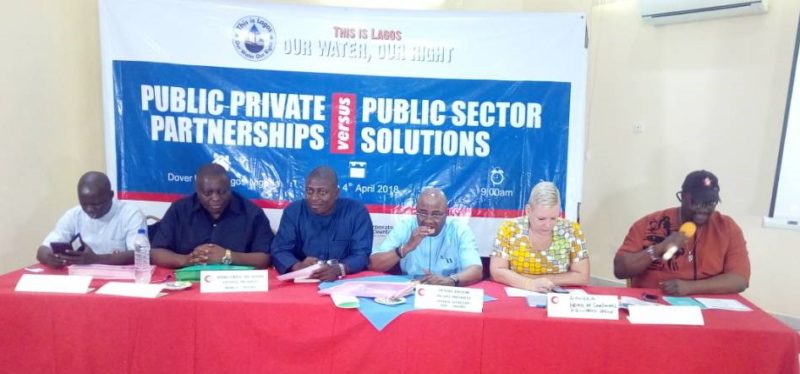 Akinbode Oluwafemi, the deputy executive director of ERA/FoEN, stated this on Tuesday, April 3, 2018 at a meeting in Lagos on Public Private Partnerships versus Public Solutions organised by Environmental Rights Action (ERA), PSI and other civil society groups.
The activist said that, due to the failure of water privatisation in Lagos by the Babatunde Fashola administration in 2014, the Our Water Our Right coalition was formed to roll back the PPP arrangement.
To achieve this, he added, the coalition partnered labour unions, engaged communities through Community Water Parliaments, engaged women through Africa Women Water Sanitation and Hygiene Network (AWASHNET), and made international alliances.
According to him, the failure of Visionscape Sanitation Systems in Lagos is the foretaste of PPP model failure in Nigeria.
Several speakers from the civil society and labour unions presented papers opposing privatisation in different sectors such as water, energy, education and health.
Sandra Vermuyten, Head of Campaigns, Public Services International (PSI), who represented Rosa Pavanelli, the PSI General Secretary, presented the keynote address on "PSI's Campaign Against Privatisation of Public Service, 2030 Agenda and Current Global Policy Issues".
She noted that there had been a "propaganda tsunami" on the merits of privatisation and tried, together with other speakers, to proffer ways of breaking through the tsunami.
According to her, privatisation is not about job creation, but more of taking basic needs and facilities out of the reach of the common man by high costs.
Greece and Portugal, she said, were pushed into bankruptcy by the same international corporations who were advising African countries to embrace privatisation, adding that "the fight against privatisation is for social justice and human rights."
In his welcome address, Benjamin Anthony, the national president of Amalgamated Union of Public Corporations, Civil Service Technical and Recreational Services Employees (AUPCTRE), said "there is no better time to address this issue of privatisation than now that more African countries are privatising public corporations."
On the reason the civil society in Nigeria are kicking against privatisation, he said it runs contrary to the constitution.
He appealed to PSI to add provision of affordable housing to its campaigns, because the rich buy public land to build unaffordable houses, leaving the common man without shelter.
Describing the PPP model in Nigeria as exploitative, he commended PSI for its support to AUPCTRE.
Oluwafemi remarked that despite the gloomy picture painted about most African countries, "in every African country, multinational companies make fortunes to the detriment of the masses."
Supporting Vermuyten's assertion that the financial volume of 10 top companies in the world equals 180 bottom countries, Oluwafemi said "more state actors are getting richer that the public."
On the reason for ERA opposition of Lagos' bid to privatise public corporations, he restated that "if Lagos should fall, several cities in Nigeria will fall; and if Nigeria should fall, several African countries will follow."
The two-day workshop ended on Wednesday, April 4.
By Chika Onwuji