The Emir of Gashaka kingdom, HRM Alhaji H/Gabdo Zubairu, in a speech delivered at the vulture conservation/stakeholders' workshop in Taraba State, tasks colleagues on vulture conservation in the country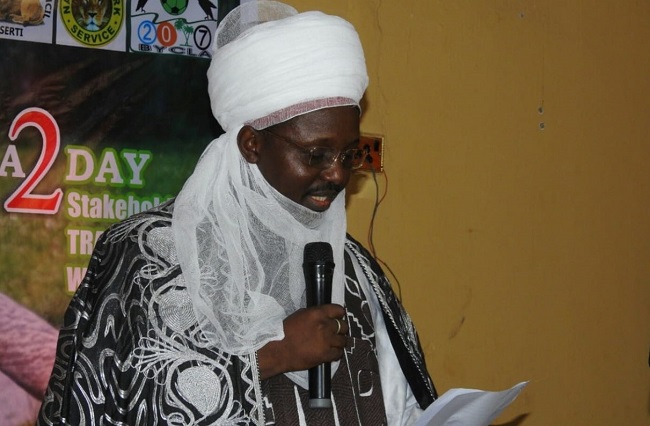 Without any doubt in mind, Gashaka and its environs has etched for itself respect and unrivalled reputation in Nigeria due to the natural endowment of rare surface and subterranean resources, including several species of vultures. These vitally important resources are created by Allah for the benefit and prosperity of mankind – both now and in the future. As stakeholders, we should mindfully ensure the longevity of this reputation and not deny future generations their own rights to experience, benefit and interact from these resources.
Vultures are famous eaters of only dead organic materials that otherwise could constitute nuisance to human health and comfort if left unremoved from the environment. Our ancestors therefore having deep value and insight for nature forbade harvesting and killing of Vultures. This probably could be the reason why preceding generations are healthier than the present ones -because these birds help to clean-up the environment.
Where are the vultures? Sometimes our problems are self-inflicted and lie in the fact that we don't ask the necessary questions, particularly questions that are hinged on the love for our neighbours. Can you please ask one another the questions that has eluded this present generation: where are the vultures? To my journalist friends – where are the vultures? To colleagues and friends – where are the vultures?
Our best neighbours are sometimes the non-human elements to whom the attributes of kidnapping, vengeance, malice, wastages, gossiping and destruction are not bestowed.
If we then careless about the non-human elements of our environment, how then can we appreciate the values inherent in them? Or how else can we speak of loving our creator when we treat the created with disdain? It is time we begin to ask good questions and honest answers to which will help us as a community to gauge our impacts on the environment and the attendant implications.
Vultures are still being hunted and harvested by the few merchants who trade in vulture parts – thereby enriching themselves against the general well-being of our people. It is time to say enough is enough. I am aware of other notable traditional rulers who are either directly or indirectly after our best friends in their domains. I am also encouraging other traditional rulers in Nigeria to join in this creative efforts, with the understanding that the totality of our domain is defined by both the human and non-human elements. I have no regrets joining the campaign in 2017 through the BirdLife Young Conservation Leaders Initiative. I am further encouraging the media to make my stance on vulture conservation go viral and widely circulated. Without any doubt, I am among the first doing this in support of nature.
Our resources are blessings to us from Allah, but if not well managed and protected, the resources could create social problems. Remember we are only adding to our longevity and peace of mind if we desire conviviality with nature and the vultures. Or else why should man pursue after things that were not his enemies?