Nigeria has successfully rehabilitated over 1,558.62 hectares (ha) of degraded land and lifted more than 8,000 people out of poverty through livelihood enhancement activities in drought-prone areas in the last four years.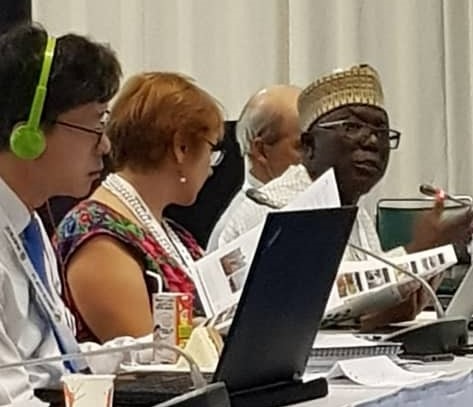 National Coordinator of the Nigeria Erosion and Watershed Management Project (NEWMAP), Alhaji Salisu Dahiru, disclosed this on Friday, September 6, 2019 at the 14th Conference of Parties (COP14) of UN Convention to Combat Desertification (UNCCD) currently underway in New Delhi, India.
Dahiru said that the $400 million World Bank Project being managed by NEWMAP successfully restored gullies, along with catchment planning, soil and water conservation in areas worst affected by desertification.
The NEWMAP boss said that the World Bank project was aimed at reducing vulnerability to soil erosion in targeted sub watersheds.
Dahiru said that the formation of gullies and ravines, particularly in South Eastern parts of the country, had resulted in extreme land degradation.
"These gullies are the largest ecological challenge that the region is experiencing.
"Some of these gullies can be as deep as 100 metres and as wide as 20 to 30 metres and could stretch over several kilometres.
"We consider these as end results of prolonged land degradation, resulted mainly from the loss of vegetation cover and leading in loss of livelihood because majority of population is in and around the area where these gullies exist.
"So, restoring this land has been of prime-most importance to us and the community, and the World Bank came to the rescue," Dahiru said.
According to him, NEWMAP programme has three operational components, namely: gully restoration, catchment planning and management and livelihoods; capacity building in key national and state institutions related to erosion and watershed management; and climate change and alternative energy for rural areas.
He said that the gully restoration component was designed in parallel with catchment planning, soil and water conservation, as well as livelihood enhancement activities such as grants to community members to implement selected community sub-projects.
This, Dahiru said, generated income and provided skills that led to employment opportunities or new start-ups in 22 affected states across the country.
"The project supported over 5,159 beneficiaries via grants. The people are now engaged in businesses such as livestock farming, small shops, trading, and honey production," he said.
In order to ensure sustainability, Dahiru said that NEWMAP established soil and water conservation zones where communities would directly contribute to reducing erosion while conserving biodiversity and supporting sustainable forest management.
The second phase of the project, according to him, woulld focus on the restoration of 10 new flood and gully erosion sites.
NEWMAP's eight-year intervention project, launched in 2015, is said to be the biggest project in World Bank Group's portfolio in Nigeria.
The World Bank had on June 18, 2019 approved additional funding for financing seven projects to support Nigeria in other sectors, including reducing vulnerability to soil erosion.
This additional financing for NEWMAP is an International Development Association (part of World Bank) credit of $400 million.
According to the World Bank, the NEWMAP project will promote innovative, integrated approaches based on international best practices and community participation to tackle land degradation and major gully erosion formations in participating states.
It will also support Nigeria in building its climate resilience and meeting her National Determined Contributions (NDCs) and will scale up the issuance of Green Bonds to leverage more financing for sustainable development, the World Bank said.
Issues on the COP14 agenda include drought, land tenure, ecosystem restoration, climate change, health, sand and dust storms, cities of the future, financial investment, and the roles of youth, non-governmental organisations and the private sector.
The international community had adopted the Convention to Combat Desertification in Paris on 17 June 1994 out of concern that "desertification and drought are problems of global dimension affecting all regions.
In 2015, the international community also agreed to pursue a global target to ensure all countries work towards keeping a healthy balance of productive land by accelerating the recovery of degrading land, while avoiding and reducing land degradation.
The two-week conference ends on Sept. 13.
By Wale Ojetimi