Despite the economic slump the country currently finds itself in, many sectors, including real estate, have become privy to a range of opportunities for self-reliance and sustainability. This is good news, especially considering that property development and construction is the single largest contributor to the deterioration of the environment not only in Nigeria, but the rest of the world as well.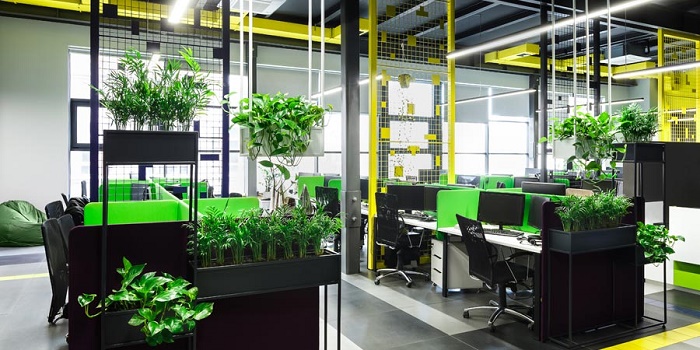 While true industry-wide sustainability requires large-scale efforts, realtors, brokers, and building owners all need to do what they can to prevent any extreme energy usage, waste generation, and any other inefficient practices from negatively affecting the environment.
Green the Office
The easiest way a realtor, estate agent, or property developer can improve sustainability within the sector, is by making their offices eco-friendlier. Start by using products that are recyclable, sustainable, or compostable. Energy usage can be reduced by using energy-efficient globes and appliances. Nigeria is also adopting smart tech at a rapid rate which can contribute towards increased sustainability even more.
Other ways to make an office eco-friendlier include buying zero-waste promotional products, banning single-use plastics, and recycling as much office waste as possible. Promoting green transit among the workforce is another effective way to remedy greenhouse gas emissions.
Attract Like-Minded Clients
While it is important for realtors to ensure that their own business practices are green, sustainability can also be achieved by attracting the right clients. Sustainable real estate is particularly popular among Millennials and Gen Zs. If you can showcase your concern for the environment and continuously brush up on your knowledge, you can market your services directly at a very specific target audience.
Buyers looking to invest in green properties will also tend to gravitate naturally to realtors who possess a specific set of characteristics. In addition to seeking out someone with a good professional reputation and great work ethic, a realtor who keeps abreast of the latest trends in sustainability may impress more than one who has very little knowledge of eco-friendly real estate practices.
Invest in Sustainable Business Initiatives
To truly minimise the carbon footprint of the Nigerian real estate sector, the industry has to continuously seek out greener business practices. A good place to start is by choosing suppliers and service providers that share your views on sustainability. This includes everyone from your HVAC services to the company that attends to your landscaping. It is also very beneficial to continuously pursue green certifications both in individual and business capacities.
In addition to this, an increasing number of operators in the Nigerian real estate and property development sectors are aiming to reduce greenhouse gas emissions by as much as possible. This has a long-term effect on the entire industry and the environment as a whole. With new technologies and practices constantly emerging it will become a lot easier for the industry to reduce its carbon footprint.
The Nigerian real estate sector and property development sectors have a huge impact on the environment. Thankfully, there is a lot that individual operators within the industry can do to reduce their carbon footprint and conduct business in a greener manner.
By Jackie Edwards