Ecocykle Development Foundation (EDF), a non-profit organisation that promotes environmental stewardship, has launched the "Oya Recycling Project" to address the numerous issues caused by poor waste management in Nigeria.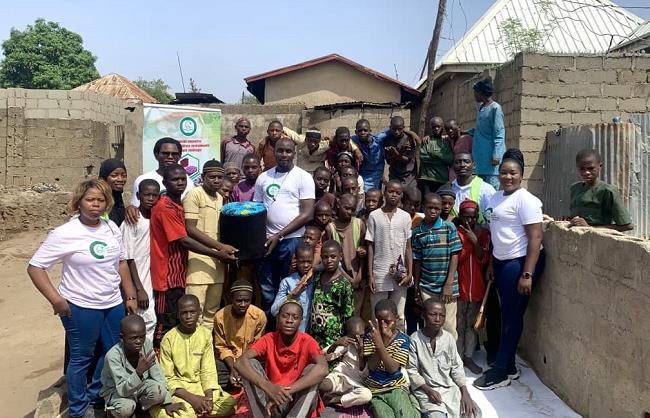 To commemorate this year's Global Recycling Day (GRD), the group taught over 30 Almajiri children from Angwan Manja, a small slum community in Nasarawa State in the country's north-central region, various waste-to-wealth skills in order to improve their livelihoods and address the ecological crisis caused by poor refuse disposal.
The recipients were informed about the value and potential of waste, as well as their roles in environmental protection. They learned how to use their imaginations to promote recycling practices in their communities by making chairs, sawdust, and other products out of plastic garbage.
Aliyu Sadiq, Executive Director at EDF, bemoaned the fact that plastic pollution, which he blamed on poor waste management, negatively affects the planet on a daily basis.
He disclosed that one of the project's objectives is to encourage young people living in slum regions to use their imaginations to find solutions to issues brought on by subpar rubbish management.
One of the participants, Suleiman Abubakar, said the activity had changed his life and vowed to apply what he had learned to better himself and deal with the problem of improper waste dumping.
Another recipient, Maryam Abubakar, spoke about the benefits of the capacity-building session and how it has provided her with skills that she intends to use to earn a living.
"I now know how to recycle waste, make money from it, and protect our environment," she stated.
In his thank-you speech, Malam Mustapha Jaji, the caretaker of the Almajiri school where the event took place, emphasised the multiple difficulties the community is currently suffering as a result of an inefficient trash system.
He, however, assured the organisers that the knowledge gained from the training would be used to provide better solutions that would allow the community to benefit from the waste value chain.
The Global Recycling Day was established in 2018 to help recognise and celebrate the importance of recycling in preserving our precious primary resources and ensuring our planet's future.
The idea is to remind world leaders that recycling is simply too important to not be a global issue, and that a coordinated, global approach to recycling is urgently needed.
By Etta Michael Bisong, Abuja