Director General, The Nigerian Conservation Foundation (NCF), Dr. Muhtari Aminu-Kano, in this piece meant to commemorate the 2018 Earth Day, advocates for the development of legislation and/or policy for the control of the use of plastic bags in the country in order to address the pollution menace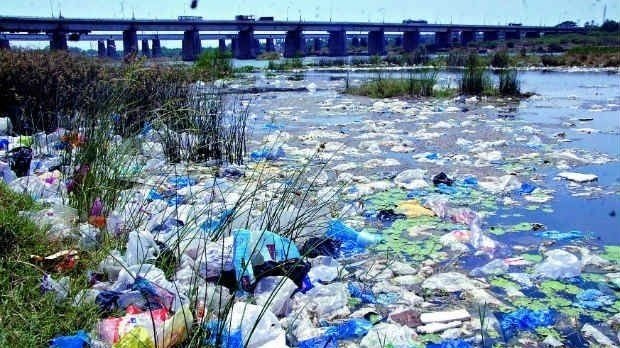 Plastics are derived and manufactured from higher density hydrocarbons. They are tough and are not degradable when disposed, potentially present in an ecosystem for between 500 – 1,000 years!
With increases in human population and commercial activities over the last century, we have also witnessed a tremendous increase in the quantity and use of plastics as shopping and gift bags, carriers for drinks and water, insulation materials and general packaging of merchandise. In Nigeria however, the most environmentally damaging and unsustainable use of plastics is in the commercial sector where plastics are used as wrapping/shopping bags and as carriers for water in this case commonly known as pure/sachet water.
Many bags drift into the ocean, strangling turtles, suffocating seabirds and filling the stomachs of dolphins and whales with waste until they die of starvation. Habib El-Habr, an expert on marine litter working with the UN Environment Programme in Kenya, outraged by the development commented as follows: "If we continue like this, by 2050, we will have more plastic in the ocean than fish."
What are the issues?
The indiscriminate and poor disposal of such used plastics is fraught with numerous environmental consequences which include:
flooding; as a result of drains being clogged by the plastics.
outbreak of diseases; the bags become habitable grounds for disease-spreading vectors such as mosquitoes and flies, resulting in the spread of malaria, cholera and diarrhea.
pollution of the rivers, seas and oceans; every year, tones of plastics are washed into aquatic systems which affect the sites and potentials of breeding of fishes and other aquatic animals. More so, many fish species ingest the plastics which ultimately get transferred into the food-chain to humans, with negative consequences on our health. Many river channels have ''dried-up'' due to the disposal of plastics along their courses.
State of affairs
In Africa, Rwanda, Tanzania and Kenya have legislation that bans the manufacture, trade and use of plastic bags. Penalties range from the imprisonment of up to five years or fines of several thousands of dollars. Other African countries (about 15) such as Ethiopia, Morocco, Mauritius, Ghana, South Africa, Namibia and Madagascar, are currently developing policies and legislation for the prohibition of the use of plastics. Globally, over 40 countries have policies or legislation to control or prohibit the use of plastics ranging from tax to an outright prohibition. More so, In June 2017, the East African Legislative Assembly finally passed the EAC Polythene Materials Control Bill 2016 that seeks to impose a complete ban on the use, manufacture and importation of plastic bags in the East African Community after stagnating for five years.
It is instructive to note that Chile even sent in policy experts to understudy the Rwandan and Kenyan legislation and experience on the prohibition of plastics with a view to adopting same.
Nigerian context
Nigeria is a signatory to numerous global treaties and conventions such as the Paris Climate Convention, Sustainable Development Goals (SDGs), the Convention on Biodiversity (CBD), Convention on Migratory Species (CMS), for the sustainable management of the environment and biodiversity. The spirit, letters and intent of most of the conventions involve the interdiction of practices that cause harm to the environment or specific species under threat.
The SDG 3 (on good health), 6 (clean water and sanitation), 11 (sustainable cities and communities) 13 (climate action) and 14 (life below water) all directly deal with the effect of practices (and by implication, plastics) on our communities' (un)sustainability.
The use of plastics and its effect on wildlife sustainability and species diversity runs against the CBD just as much as it is to CMS.
While refuse – including plastics – in most rural and even urban communities are often disposed by open-burning, the emissions from such practices apart from being harmful to human health (emits phthalates, antimony, volatile organic compounds, carbon monoxide, arsenic and dioxins which cause headaches, nausea, rashes and other health complications) comes at a harmful cost to the environment even affecting Nigeria's emission abatement targets as made in the Paris Climate Convention.
What can and should be done?
While not the first in Africa, Nigeria can however provide leadership to an African initiative to prohibit the use of plastics. In this regard, the following steps might be worth considering:
the government (Ministries of Environment, the National Environmental Standards, Regulatory & Enforcement Agency – NESREA, etc) should henceforth sensitise communities on appropriate waste disposal techniques and ensure facilities are provided for such.
a legislation and policy framework for the taxing or prohibition of the use of plastics (shopping/gifts plastics bags, sachet water plastics and similar range of plastics) should be initiated. Such regulations should have appropriate penalties for defaulters.
effective bio-degradable substitutes to such plastic bags (made from kenaf, sisal or bamboo fibres etc) should be initiated.
for plastic bottles and other non-degradable materials, designated recycling collection centres should be established within communities and government designated centres.