By Michael Simire
Dearth of experts with in-depth knowledge of the climate change phenomenon, reluctance on the part of media managements to take the bill for trips that will enable reporters come up with quality reports as well as lack of access to comprehensive data and research journals on the topic have been identified by a study as challenges to reporting the issue in Lagos.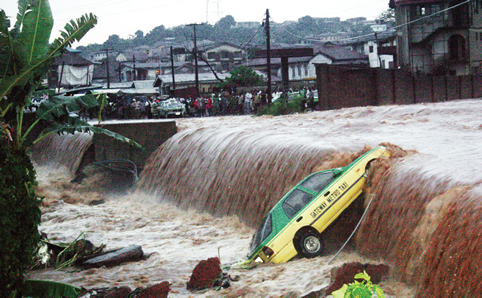 Titled: "Climate change needs analysis survey amongst journalists in Lagos State," the study observed that apart from the fact that frequency of reporting has been given limited attention, the prominence accorded climate change stories are on the other low.
"Most of the reports are news items, which carry neither significant nor great import to the reader, viewer or listener, as compared to if it were a features, commentary or documentary," the document noted, adding that a considerable number of the respondents had not benefitted from any training on climate issues.
Prepared by the Policy Advocacy Project Partnership on Climate Change in Lagos State (PAPPCC), the survey however unfolded some cheering scenarios, going by disclosures that there is an appreciable level of consciousness in reporting the topic, that the ownership of the medium did not influence the journalists' decision on reporting the issue, and that the media executives were enthusiastic over having a capacity building training.
Consequently, the survey underlined the need for strategic engagement with media organisations through key officials such as editors, editorial board members and line editors. It also called for journalists' linkage with several sources of information through field investigative reporting, case studies that could help improve public understanding of the science of climate change and other resources for capacity in terms of fellowships.
"The need for sound periodic training for journalists in the area of climate change cannot be overemphasised. The rationale behind this is that this will enable them go beyond producing or publishing superficial reports."
The report likewise suggested that journalists should be attached to civil society organisations and government agencies for a short period so that they can be mentored and immersed in climate change topics. It also wants the management of media houses to be encouraged to be committed to the task of using stories on climate change.
The report submitted: "A change of attitude on the part of these managers is vry germane to better the reporting on climate change. The encouragement should come in the emphasis of the need for them to use such stories prominently as they do other stories on politics, business and sports.
"Climate-friendly organisations, foreign donors and funders could also give small grants to journalists to enable them go and do stories that they have always wanted to do, but could not because they lack the funds.
"Journals, research and other informative materials should be readily made available. The culture of not speaking or withholding of relevant information by public officers should be prevailed upon to make information available for journalists on climate change."