A university don has called for the enactment of a law mandating all electronic and print media as well as the social media and different service providers to incorporate environmental messages into their publicity, publication and advertorial platforms.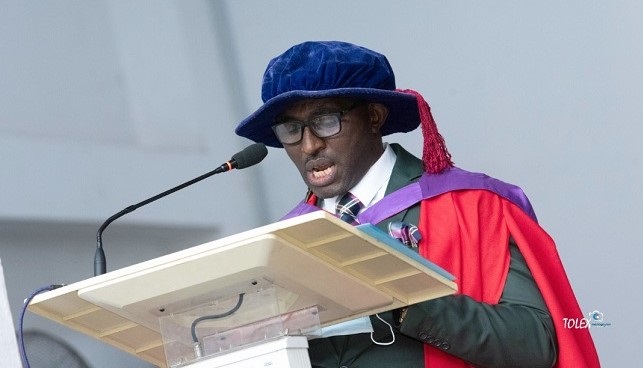 The cal was made by Prof. Godson Ana of the Department of Environmental Health Sciences of the University of Ibadan in his presentation at the institution's 499th Inaugural Lecture held on Thursday, August 19, 2021.
Speaking on the topic: "Nature's Blanket and God's Heritage in Dis(X)tress: Who's the deliverer?", Prof Ana insisted that environmental education, advocacy and awareness creation must be increased beyond its current modicum level.
"To do this, government must recognise the need, initiate the process and implement the development of environmental education at all school levels. Knowledge they say is power. Hence the deliverer of the planet earth from environmental decadence must be armed with requisite and relevant knowledge which is really the panacea," he said.
Ana called for an aggressive campaign and reorientation programme on change in attitude and values system as it bothers on the environment.
"This change in attitude and unwholesome practices towards the environment would contribute to abating the various forms of environmental degradation including air pollution. To do this government must engage all media groups, national orientation agencies, provide enabling environment for more mass transit vehicle and Bus Rapid Transit (BRT) systems, provide biking and trekking lanes, provide incentives for tree planting, production of biofuels and discourage indiscriminate open burning of refuse and farmlands."
The don lamented that air quality in Nigeria is still in its infancy stage and that there appears to be dearth of experts in the field.
His words: "In view of the increasing burden of air pollution problems and the high prevalence of air pollution related morbidities and mortalities as elucidated by the WHO and other related united nation organs, there is an urgent need for an aggressive and massive manpower training for technical experts in air quality management across all institutions of higher learning especially at the post graduate level."
He submitted that government, through TETFUND and other agencies, should provide scholarships and grants for in-country and overseas technical training courses on different aspects of air quality management.
As the flagship Department of Environmental Health Sciences, Prof. Ana urged the University of Ibadan to establish a solar-powered air monitoring station for real time monitoring of atmospheric parameters integrated with meteorological parameters as well.
Government, on its part, he added, must as a matter of priority establish air monitoring stations in at least all the ecological zones of the country in the first instance and gradually to states and LGAs in the urban centres.
"This can be done with relevant international collaborators. This will create a network of database for the nation. The presence of such a facility will address the problem of snapshot data capturing and will improve the quality of data for both spatial and temporal analysis which has often been the bane of comprehensive database for modelling," he stated.
While calling for an effective and efficient monitoring and surveillance system be put in place to unravel the magnitude and spread of air pollutants, he urged government to outrightly or in partnership with other organisations to establish air quality equipment manufacturing/assembling/maintenance factory in the country to boost research, create jobs and serve as a revenue earner.
He believes that the absence of strict enforcement regime by relevant environmental regulatory organisations in the country such as National Environmental Standards and Regulations Enforcement Agency (NESREA), National Oil Spill Detection and Response Agency (NOSDRA) and Environmental Health Officer's Registration Council of Nigeria (EHORECON) jeopardises the little gains of air quality management that is in place in most facilities.
To address the impasse, he called on government to employ more of these categories of staff, equip them with requisite facilities, provide adequate incentives for them and create appropriate feedback mechanisms that will ensure effective sanctions against those found culpable and seen to be infringing on state environmental laws and guidelines.
"It is very obvious that our value system has collapsed, and this reflected in virtually all facets of our lives including environmental care and stewardship. Increasingly most children are under the watch, care and supervision of others other than their parents especially at the home setting where sound morals and civics should be laid as building blocks."
Parents, he suggested, should "urgently wake up to their responsibilities of imbibing and entrenching good environmental tennets to their children at the household level in almost a similar manner in which they are concerned about their educational advancement".
He underlined the importance of children as the vanguards of positive transformation and revolution in the environment sector, saying that, to coordinate these activities more effectively, "there is a dire need to establish an International Centre for Children Environment Programmes (ICCEP) with the University of Ibadan serving as the hub for the African sub region. This should be in collaboration with UNICEF, other children supportive UN bodies and multinationals."