350.org, the global climate action organisation, is set to premiere its documentary "Esto es Fracking" ("This is Fracking" in Spanish) at the prestigious Middlebury New Filmmakers Festival in Vermont, USA on Saturday, August 26, 2023.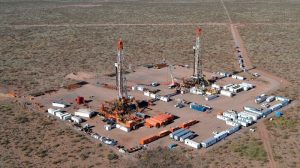 The film delves deep into the adverse effects of hydraulic fracturing (fracking) for oil and gas extraction in Argentina's Vaca Muerta region. The documentary captures the unwavering resolve of local communities as they confront the destructive impacts of fossil fuels and demand an end to fracking.
The Middlebury New Filmmakers Festival, renowned for showcasing impactful environmental documentaries, will honour Argentinian director, Rocío Almaraz, with the esteemed Gaia award for Best Environmental Film of the 2023 edition on August 27.
"Esto es Fracking" illuminates the environmental and socio-economic toll of fracking – a technique involving injecting water and chemicals into the ground to extract oil and gas. Countries like the United Kingdom, Germany, France, and Spain have banned fracking due to its associations with water contamination, earthquakes, and potential health hazards.
"At this pivotal moment when Argentina grapples with economic, social, and environmental crises, 'Esto es Fracking' echoes the urgent need for sustainable alternatives. This film vividly highlights the clash between fracking and the preservation of Patagonia and other regions," says María Victoria Emanuelli, 350.org Latin America Campaigns Coordinator.
The documentary underscores how lobbying by major oil and gas conglomerates, combined with successive Argentine governments' aspirations for economic growth through fossil fuels, laid the groundwork for a fossil fuel exploration system in Patagonia. María Victoria Emanuelli emphasises that "this is a watershed moment for Argentina, especially as the nation prepares for the upcoming presidential elections."
Through firsthand accounts, "Esto es Fracking" uncovers the havoc wreaked by fracking on communities. Representatives from the Mapuche Confederation of Neuquén speak out against the destruction of local ecosystems and the loss of reliable water sources. Agricultural communities lament the decline in produce quality due to soil and water contamination fears. Urban neighborhoods detail the mental and physical toll inflicted by frequent earthquakes and the uncertainty surrounding the health implications of fossil fuel operations.
The film further reveals that Vaca Muerta has been a financial and ecological catastrophe for Argentina. Subsidies and credits directed towards oil and gas giants could instead fuel sustainable job creation and economic diversification. "Esto es Fracking" offers an array of solutions to break free from the fossil fuel cycle, as proposed by communities spearheading the fight for a just energy transition.
Following its global premiere in the U.S., "This is Fracking" will debut in Argentina at the 8th International Environmental Film Festival of Patagonia on September 5. People interested in viewing the film in their own communities before its web release can request the film for community screenings.
Rocío Almaraz, Director of the documentary "Esto Es Fracking", said: "'Esto es Fracking' is the way we found to respond to the disinformation campaign that revolves around Vaca Muerta. We didn't want the stories of the communities to keep slipping by unnoticed. We needed to back them up with clear and simple information so that there would be no doubts about whom the victims are the culprits."
María Victoria Emanuelli, 350.org Latin America Campaigns Coordinator: "The silence enveloping Vaca Muerta's catastrophic impacts on Argentina and the climate is gradually shattering. The Argentine socio-environmental movement is breaking this silence and demonstrating that Vaca Muerta is an avoidable calamity. Alternatives for holistic development, centered around people and the environment, exist in stark contrast to the consequences of oil and gas exploration."
Werken Gilberto Wijipag, from the Mapuche Confederation of Neuquén, said: "Extractivism directly impacts us because it is born and dies in Mapuche territory, but we are not going to allow it."