BirdLife International Africa and Africa Biodiversity Collaborative Group (ABCG) on Thursday, August 24, 2023, signed a Memorandum of Understanding (MoU) to advance collaborative biodiversity conservation in Africa.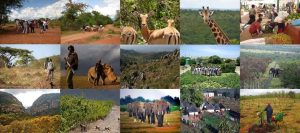 The MoU focuses on developing and implementing conservation programmes and linkages including climate change, restoration in line with the Africa Union Agenda 2063, Africa's vision and development agenda and the Post 2020 Global Biodiversity Framework – the global plan to halt and reverse biodiversity loss by 2030.
The collaboration aims at moving the needle for conservation, biodiversity, and climate at a time when the need to address the triple planetary crises – climate change, biodiversity loss, and pollution is most urgent. It also comes at a time when Kenya will be hosting the Africa Climate Summit to build momentum for urgent climate action ahead of the Climate Conference (COP28) in Dubai, United Arab Emirates (UAE).
BirdLife and ABCG will collaborate closely in joint advocacy campaigns and actions that enhance biodiversity conservation; restoration and climate resilience building of local communities; resource mobilisation for conservation work; policy influencing and working with governments to push for implementation of global commitments on biodiversity and climate.
BirdLife will share with ABCG and partners scientific and technical support tapping into its vast and growing network of partners in 26 countries in Africa and 116 countries globally, in addition to its cutting-edge science.
ABCG will link BirdLife Africa to its other technical partners and potential funding agencies with the aim of supporting biodiversity conservation in Africa, provide BirdLife with resources, where available for capacity strengthening, and share information and facilitate engagement of BirdLife Africa scientists in policy dialogues, and learning and sharing events globally.
"The Africa Biodiversity Collaboration Group (ABCG) is honoured to sign this MoU with BirdLife Africa and through it, will strive to advance the recognition and role of bird species and their habitats, as critical contributions to healthy ecosystem function and conservation," said Rubina James, Director, ABCG.
"This collaboration evidences the value of harnessing our collective resources and commitment to protect, conserve, and preserve biodiversity to ensure the well-being of our planet and the survival of all life in the air, on land and under water," Rubina added.
"At a time when Nature is in crisis, we are excited about this collaboration with ABCG, which is timely. This collaboration will leverage BirdLife's extensive partnership across the continent, technical capacity, and innovative conservation solutions to tackle some of the most pressing biodiversity challenges on the continent," said Dr Kariuki Ndang'ang'a Regional Director for Africa, BirdLife International.