The Vice-Chancellor, Ahmadu Bello University (ABU), Zaria, Prof. Ibrahim Garba, has advocated for introduction of BSc. Environmental Health Science in Nigerian universities to effectively curb desertification.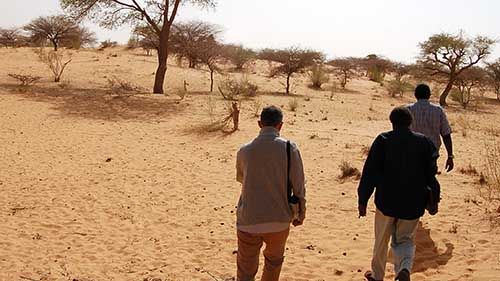 Garba made the call at the "2018 Tree Planting Campaign of the ABU Green Belt Initiative'' held on Thursday, July 5, 2018 at the ABU main campus, Zaria, Kaduna State.
The News Agency of Nigeria (NAN) reports that the theme of the 2018 campaign is: "Beat Plastic Polution" with a topic "Agro-Forestry: The Way Forward".
He observed that the course, if introduced, would go a long way in addressing some of the environmental challenges bedevilling Nigeria and Africa at large.
The Vice-Chancellor said: "We look forward to the time when the when the Environmental Health Council of Nigeria will anchor BSc. Environmental Health Science in our universities.
"Let me also seize this opportunity and pay tribute to the Permanent Secretary, Ecological Funds, for the several ecological interventions on the university."
Garba urged Nigerians to join other people globally in campaign against wide spread of plastic pollution.
He said the Chemical Engineering Department of the university could do a lot on recycling of polythene/plastic, thereby making Nigerian environment safe.
"A collaboration can be established on that, ABU is appealing for this. On environmental awareness creation, Theatre and Performing Art Department has done a lot too on burning environmental issues.
"We will provide assistance to the ministry in this regard," he assured.
Garba stressed the need for collective efforts from all Nigerians to be able to check the challenges of desert encroachment.
The vice-chancellor appreciated the efforts of the Federal Ministry of Environment and the Minister of State Environment, Alhaji Ibrahim Usman Jibril, for building a solid cordial relationship with ABU.
He identified some of the mutual benefits of such relationship to include the university's engagement with the National Agency for Great Green Wall.
Others, according him, are assistance by the Department of Climate Change in the ministry to access Clean Development Mechanism Funds to sustain its programme.
The Chairman of the occasion, Prof. Ango Abdullahi, said the significance of tree planting should be emphasised rather than telling what ABU was doing annually.
Abdullahi, who is also a former V-C of the institution, observed that if all institutions in Nigeria right from primary to tertiary would emulate ABU green environment's practice' it would have changed the nation's environment for the better.
He lauded ABU for maintaining its botanical garden in all its campuses, while appealing to leaders to cultivate the spirit of tree planting and strong political will to avert the menace.
"There is no how trees will survive where there is no alternative to firewood. The alternative is very costly even more than the firewood.
"Therefore, there is every need for collaborative efforts and steps to be taken by all stakeholders to avert desert encroachment," he said.
By Mohammed Lawal