The United Nations has called on governments and private entities to support sustainable actions to reverse land degradation and invest in land restoration to avoid further loss of world's biological diversity and valuable ecosystem.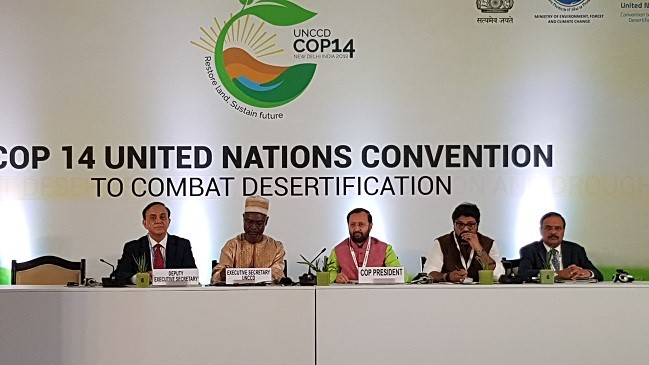 The call came as discussions began on Monday, September 2, 2019 on strategies and actions needed to accelerate achievement of the United Nations Convention to Combat Desertification's (UNCCD) goals by 2030, including people-centered land management policies; drought preparedness, management, and response; actions to accelerate land restoration and resilience; the role of science in enhancing actions on the ground; and enhanced commitments to accelerate achievement of the land-related Sustainable Development Goals (SDGs).
Ibrahim Thiaw, Executive-Secretary of the UNCCD, made the call at the opening of 14th Session of Conference of Parties (COP14) to the Convention in New Delhi, India.
Country Parties to the UNCCD will, at the conference, agree on the actions to take over the next two years to get the world back on a sustainable path to land use and land management.
About 100 ministers and over 7,000 delegates from 196 countries are participating in the two-week conference, being hosted by the Indian government.
Among special guests expected at COP14 were India's Prime Minister Narendra Modi and UN Deputy Secretary-General, Amina Mohammed.
"We are fast running out of time to build our resilience to climate change, avoid the loss of biological diversity and valuable ecosystem and achieve all other Sustainable Development Goals.
"But we can turn around the lives of over 3.2 billion people all over the world that are negatively impacted by desertification and drought if there is political will.
"And, we can revitalise ecosystems that are collapsing from a long history of land transformation and unsustainable land management,'' Thiaw said.
The UN official said that one in four hectares of the world's converted land was no longer usable due to unsustainable land management practices.
"These trends have put the well-being of 3.2 billion people around the world at risk and may force up to 700 million people to migrate by 2015.
"So, all of humanity will eventually be impacted as we lose more and more of the services ecosystems provide,'' he said.
According to the UN official, over 70 countries now have robust national drought plans, compared to just three, four years ago.
Also speaking at the conference, India's Minister of Environment, Forests and Climate Change, Prakash Javadekar, said 122 most populous countries, including Brazil, China, India, Nigeria, Russia and South Africa, have agreed to make achieving land degradation neutrality a national target.
"If human actions have created the problems of climate change, land degradation and biodiversity loss, it is the strong intent, technology and intellect that will make difference.
"It is human efforts that will undo the damage and improve the habitat,'' the Indian minister said.
Issues on the COP14 agenda include drought, land tenure, ecosystem restoration, climate change, health, sand and dust storms, cities of the future, financial investment, and the roles of youth, non-governmental organisations and the private sector.
The international community had adopted the Convention to Combat Desertification in Paris on June 17, 1994 out of concern that "desertification and drought are problems of global dimension affecting all regions.''
In 2015, the international community also agreed to pursue a global target to ensure all countries work towards keeping a healthy balance of productive land by accelerating the recovery of degrading land, while avoiding and reducing land degradation.
By Wale Ojetimi