The whale had over 40kg of plastic in its stomach when it was found on a beach in the Philippines.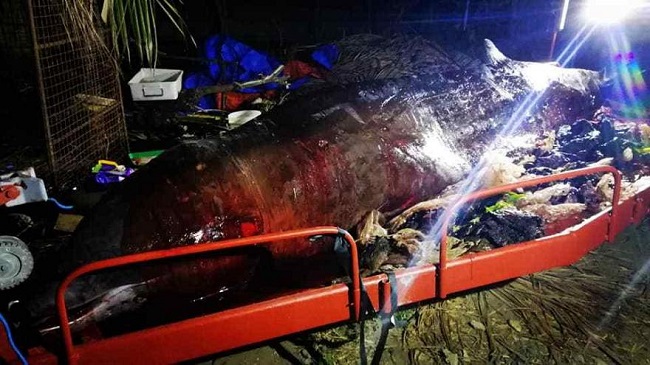 Workers at the D' Bone Collector Museum Inc. recovered the Cuvier beaked whale on Saturday, March 16, 2019 and said it was "the most plastic we have ever seen in a whale".
The staff found over 40 kilos of plastic in the whale's stomach, including 16 rice sacks, four banana plantation style bags and multiple shopping bags"
In their Facebook post they called the news "disgusting' and called for the government to take action against those who "continue to treat the waterways and oceans as dumpsters".
The D' Bone Collector Museum Inc. posted photos of the whale online to highlight the devastating effects of plastic pollution.
Evidence of animals ingesting plastics is becoming more and more frequent. A recent study found microplastics in all dead seals, dolphins and whales tested in British waters. Most of the particles were synthetic fibres, including clothes, fishing nets and toothbrushes, the rest, fragments which could have come from packaging and plastic bottles.
Last year, countries from across the world came together to discuss the UN Ocean Treaty aimed at protecting marine mammals from human activity in the ocean. While at the conference, the UK Government called for 30 per cent of the world's oceans to be protected by 2030. Over the next two years the treaty is expected to provide and implement several proposes to protect the high seas.
By Rachel Cooper, Climate Action