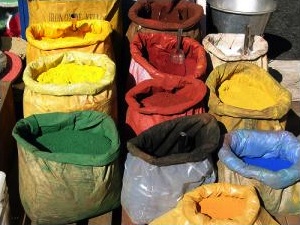 A team of civil society organisations (CSOs) that met recently in Lagos has joined the global campaign to eliminate Lead in paint.
The activists observed that, in 2002, at the World Summit on Sustainable Development (WSSD), governments (including the Nigerian government) agreed a goal that, by 2020, chemicals should be used and produced in ways that lead to the minimisation of significant adverse effects on human health and the environment.
Seven years later at the second session of the International Conference on Chemicals Management (ICCM) in 2009, several chemical issues were identified by consensus to be international priority issues of concern. One of these emerging policy issues is Lead in paints.
In response to the ICCM decision, the United Nations Environment Programme (UNEP) and the World Health Organisation (WHO) jointly initiated a global partnership (Global Alliance to Eliminate Lead Paint – GAELP) to eliminate the use of lead compounds in paints in order to protect public health and the environment.
Lead, along with other heavy metals of concern, are present in many products, including children's toys and paints, and in electronic products and wastes, contributing to unacceptable exposures to children and other vulnerable groups.
Lead use in paints pose special concerns because of their permanence and potential for serious harm to the environment and human health, especially of children, pregnant women and future generations.
Over 700 under-five children died from Lead poisoning to date and another over 3,000 still requiring treatment from the Lead poisoning incident which occurred in Zamfara State in 2010.
In 2009, SRADev Nigeria, one of the CSOs, carried out a study to analyse 30 paints sampled from the Lagos market. The result showed that all exceeded permitted lead levels far beyond the recommended limit of 90ppm, rising to alarming levels of 129,837ppm.
However, there is no acceptable blood lead level in children that is considered safe and even relatively low levels of exposure can cause irreversible neurological damage and in some cases adverse lifelong effects, such as decreased intelligence, poor school performance, mental retardation and violent behavior.
The activists expressed encouragement by the successful findings from the global studies on "Lead in Decorative Paints" and the alarming high levels above permissible limits particularly found in Nigerian paint samples.
Mindful that the awareness of policy makers and the general public about the risks of Lead and other heavy metals to human health and the environment is often very low, particularly in Nigeria, they expressed concern that Nigeria has yet no regulatory standards for Lead in paints, leaving the general public at the mercy of paint manufacturers.
The gathering that many alternatives to Lead as a drying agent in paint production such as zirconium, metallic zinc, cobalt, and metallic calcium, among others, exists requiring no change in technology to substitute any of these in paint production.
Against this background, they made an urgent call to action on the need for society to adopt essential precautionary and preventive policies and practices to ensure a lead-safe environment for all kids through advocacy at the national and state levels for regulatory frameworks to promote the establishment of an appropriate legal and regulatory framework to control the manufacture, import, export, sale and use of lead paints and products coated with lead paints should be discouraged towards complete elimination.
They underlined the need for awareness campaigns to inform the public about the hazards of lead exposure, especially in children; the presence of lead decorative paints for sale and use on the national market; lead paint as a significant source of childhood lead exposure; and availability of technically superior and safer alternatives.
They like wise underscored the need for voluntary action and labelling, such that paint manufacturers are encouraged to eliminate lead compounds from their paint formulations, especially of those paints likely to contribute to lead exposure in children and others. Paint manufacturers also are encouraged to consider voluntary participation in programmes that provide third party paint certification that no lead has been added to their paint, and to label products in ways that help consumers identify paints that do not contain added lead.
They added: "There is immediate need to enact mandatory national regulations for limiting lead concentrations in paints. Also, urgent effort needs to be put in place to eliminate lead in paint as was achieved in petrol phase out.
"There should be a complete ban and eradication of continued sale of leaded paints. Put in place regulatory mechanism towards adulterated, unregistered, unlabelled, repackaged and uncertified paint products. We believe that national re-branding should by synonymous with product re-branding. Government should set example by prohibiting procurement (purchasing) of paint products with Lead."