A Community Based Rainforest Action (COBRA) project is being implemented by an organisation known as NGO Coalition for Environment (NGOCE) with Goldman Environmental Foundation and Jewish Community Federation of San Francisco as sponsors and partners.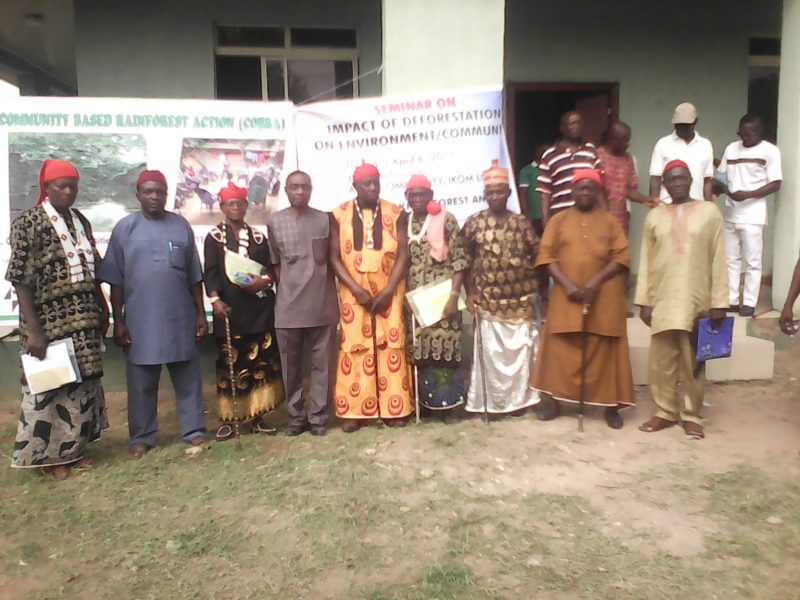 The NGOCE, being a frontline environmental outfit in Cross River State, is noteable for its invaluable contribution to conservation. In her resoluteness with policy direction by chairman, Odigha Odigha, the organisation has mobilised and formed several Community Based Organisations (CBOs) in 10 Okpon Rainforest Communities, located between Ikom and Obubra LGAs in Central Cross River. The NGOCE also sensitises them on conservation and forest governance.
Okpon Rainforest is noted for its myriad of biodiversity and marked as one of the major ecological zones in the state.
One of the community chiefs said: "We don't have any natural resource other than the forest."
The Okpon has a river sandwiched by this lush tropical rainforest and swamps, draining over 400,000 square kilometre of land that supplies water to more than 40 marked Forest Dependent Communities (FDCs).
The river, according to Chief Gabriel Okim, rises from the Cameroon Mountains, and that his community, Isabang, lies towards the lower course of the Okpon River which drains into the Cross River.
Its animal species includes hippopotamus, antelopes, bush pigs, porcupines and an array of reptiles and bird species. The resident plants species are ebony, achi, mahogany, Mimosop, and a host of others.
This prominent ecological spot accommodates economic activities such as farming and fishing, but is faced with serious threat by the communities.
On account of this project, a source said: "About 1,500 persons from the 10 COBRA communities are now aware of the need to sustainably use forest resources and stop further degradation."
And in the process the community leaders came up with a number of "Resolutions", which are listed to inlude:
Take all necessary steps to ensure the protection, conservation and sustainable management of the Okpon Forest which, according to them, "is our pride"
Stop further degradation of Okpon River
Stop the hunting of endangered wildlife
Disallow farms that are close to Okpon River, the nearest distance between the farms and the river being 10-20m.
The document, they said, will forthwith be ratified to form bye-laws to guide community activities and shall serve as a template for others around the Okpon Rain Forest.
"Arresting the threat on Okpon Rainforest: the COBRA project" is said to be a worthwhile development for the communities, as the project's bid is to arrest the wanton threat as well as add its quota in tackling climate change and promoting green economy and sustainable development in Cross River State
By Obongha Wani Oguni, Calabar, Cross River State