The National Agricultural Seed Council (NASC) has called for community policing to assist the council get rid of adulterated and fake seeds in the market.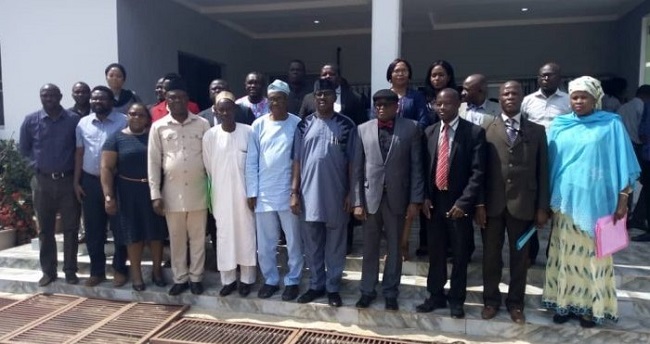 Dr Philip Ojo, the Director-General, NASC, made the call on Thursday, November 29, 2018 during the NASC Institutional Biosafety Committee (IBC) meeting at the council's headquarters, Sheda, Gwagwalada (FCT).
"The business of getting rid of adulterated seeds is a collective effort which the communities are in the best position to report those engaged in such acts to the council for proper action to be taken,'' he said.
He said that the council would collaborate with all the relevant agencies, ministries and department to ensure that it achieved its mandate of making improved and quality seed to farmers timely.
"The National Agricultural Seed Act 72 of 1992 gives the council the sole responsibility of regulating every class of seeds and provides technical support for seed entrepreneurs in the country.
"The seed law also stipulates that any variety that fails to meet farmers' expectation shall be recommended for withdrawal from circulation and appropriate action taken," he said.
The director-general said that the workshop was to further sensitise and reinstitute the NASC-IBC set up by the council in 2016 to ensure the proper handling, detection and tracking of quality seeds in the country.
Ojo said that the committee would come up with substantial and sustainable road-map to handle the concerns over trade in Genetically Modified (GM) seeds for safe handling by all stakeholders without negative effect.
"Nigeria is currently producing about 50 to 60 per cent of quality seeds used in West Africa and we hope that the country will be the next exporter of seeds and foods soon,'' he said.
Dr Rufus Ebegba, the Director General, National Biosafety Management Agency (NBMA), said that the agency was working toward ensuring the safety of all new variety of seeds into the country.
"We are aware that GM seeds will be coming to the market soon. So, we need to be properly equipped to see how to handle them to ensure the best quality of seeds were sold to the farmers.
"Any company that requires importing GM seeds to the country must obtain permit from NBMA. We inspect the company's facility to ensure that they meet the required standards.
"This kind of synergy between other relevant agencies will help strengthen the system to ensure increase in productivity and farmers' income," he said.
Dr Christianah Moji, the Director-General, National Agency of Food and Drug Administration and Control (NAFDAC), encouraged companies and individuals to confide with relevant agencies before embarking on seed and food import.
The D-G, who was represented by Mrs Anthonia Dunkwu of the agency, urged the public to recognise the law that established NASC, NAFDAC and NBMA regarding foods and feeds.
"The process of obtaining necessary clearance from NASC before planting, permit and clearance of the gene for insert from NBMA and marketing authorisation from NAFDAC to avoid severe sanctions.
By Philomina Attah