It may look like the colour campaign of Women and Gender Constituency at the ongoing climate change conference in Glasgow, Scotland, is inspired by the United Nations Secretary General, Antonio Gutteres, when he referred to the IPCC's 2021 report as Code Red.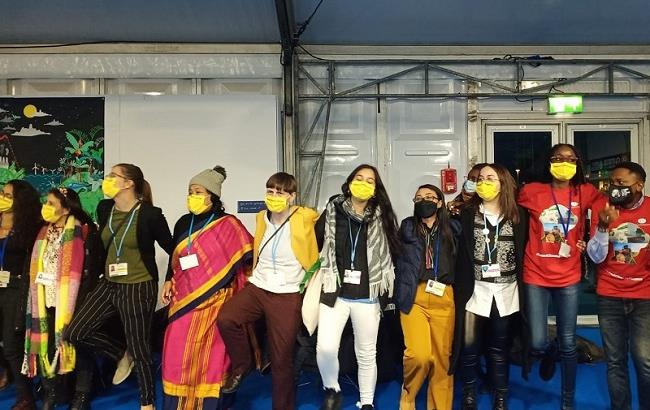 Far from it, members of this constituency have always embarked on colour campaigns at previous climate change conferences. The colour campaign at COP26 may have been more spectacular because of the new dress sense of masking-up imposed by COVID 19. This new dress sense of masking-up has made it easier for many people at COP26 and even those not attending the conference to join the colour campaign.
Previously, members of the Women and Gender Constituency wore mostly t-shirts and face-caps for their colour campaigns which sometimes went unnoticed. The colour campaign has evolved. One cannot help but notice unique face masks among the regular face masks with bold inscription: "Feminist Climate Justice."
The colour campaign is not just a mere fashion parade of beautiful colours by feminists, it is an important advocacy strategy of feminists' organisations to demand certain actions or outcomes from the conference. The colour campaign calls on feminists and feminists allies to wear and bring attention to certain colours on each day of COP26. Each of these colours represent feminist demands regarding systemic change and feminist climate justice.
Women and Gender Constituency are making the following Key Demands from COP26:
Fulfill commitment to human rights in the Paris Agreement and keep 1.5 alive
Deliver on finance and prioritise loss & damage
Ensure human rights & ecosystem integrity in Article 6
Advance the Gender Action Plan
Reject false solutions and invest in gender-just climate action
Facilitate gender-just transitions to a regenerative economy
Invest in resilient, gender-transformative, climate justice education
Promote health, including sexual and reproductive health and rights
Ensure rights to water and sanitation in all climate action
Protect the ocean, cryosphere, coastal ecosystems and local communities
Ensure collective women's land rights.
From November 1 to 6, 2021, the following colours were used for the colour campaign: red, orange, yellow, green, light blue, and purple, representing demands for indigenous feminists rights, feminist leadership for climate action, feminist climate finance, just transition to regenerative economy, young feminist rights, and false solutions respectively.
From November 8 to 12, 2021, the following colours will be used for the colour campaign: maroon, dark blue, brown, pink, and black, representing demands for climate justice for SIDS & LDCs, gender-just climate solutions, women's land rights, intersectional feminist climate action, and protection of women human rights defenders respectively.
To support the demands of the Women and Gender Constituency, wear the colour of the day to the conference venue if you are in Glasgow attending the climate change conference. Wear a shirt, a trouser or a face-cap.
You can also snap a selfie anywhere you are, wearing the colour of the day or holding up a sign with the demand of the day. Post the picture on Instagram, Twitter and Facebook.
The Women and Gender Constituency (WGC) is one of the nine stakeholder groups of the United Nations Framework Convention on Climate Change (UNFCCC). Established in 2009, the WGC now consists of 33 women's and environmental civil society organisations, who are working to ensure that women's voices and their rights are embedded in all processes and results of the UNFCCC framework, for a sustainable and just future, so that gender equality and women's human rights are central to the ongoing discussions.
As the WGC represents the voices of hundreds and thousands of people across the globe, members of the Constituency are present at each UNFCCC meeting and intersessional to work alongside the UNFCCC Secretariat, governments, civil society observers and other stakeholders to ensure that women's rights and gender justice are core elements of the UN Framework Convention on Climate Change.
By John Baaki, Deputy Executive Director, Women Environmental Programme (WEP)