According to a group led by Preston Associates for International Development (PAID), the Nigerian government must value and invest in youth, who can be seen in large numbers all over the nation, in order to provide opportunities and respectable employment for young Nigerians.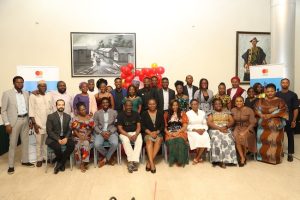 The body of professional development experts, which included Cloneshouse, ITAD, and Global Integrity, declared that if the government wants to support and motivate the next generation of focused evaluation leaders who will transform and spark change in their respective communities, it must direct its policies and resources toward putting youth in positions where they can participate in decision-making.
Dr. Nkemdilim Ene, chief executive officer of PAID, believes that the government underestimated its own strength by dismissing what young people can bring to the table, which she finds absurd.
In her speech at the closing Bootcamp for the Young Impact Associates (YIA) programme, which was held in Abuja from Tuesday, June 6 to Friday, June 9, 2023, to mark the conclusion of the first set of the scheme funded by the Mastercard Foundation, she bemoaned how the rest of the world now recognises how valuable Nigeria's youth are as a resource.
The growth specialist went on to say that if you look at Nigeria's demography, a significant portion of its population is made up of young people who are under 40 years old.
"It would be very sad to turn your back and not invest in them because they are your most valuable resource," Dr. Ene warned.
Turning to the 12 young Nigerians who benefited from the YIA programme, the chieftain who oversees PAID urged them to maintain their relationships with one another and to keep in mind the knowledge and experiences they have gained because they will continue to shape their future.
Additionally, the development campaigner exhorted the cohorts to stay informed about their progress because the field of monitoring and evaluation is constantly changing due to new methodologies, technologies, and emerging approaches.
She submitted by expressing her joy at having seen their growth and achievements as well as her anticipation of seeing them at the top.
In a similar vein, Dr. Abdulkareem Lawal, who attended the event on behalf of ITAD, echoed the former speaker's sentiments and urged the government to put the country's youth policy into action.
Nigeria, according to him, is good at enacting policies, but the real issue is with how they are carried out.
As a result, in his opinion, the emphasis should be placed on how to implement the youth policy, which should serve as a springboard for asking, "Ourselves, what have we done in this policy, or what have we not done, and how can we move forward as a nation?"
He suggested that because young people make up a sizable portion of the population, they should be purposefully included in these processes and placed in better positions where they can influence what directly affects them.
"I think that will be very good for moving the country forward," says Dr. Lawal, who gave a presentation at the bootcamp on monitoring and evaluation methodologies.
The chief executive officer (CEO) of Cloneshouse, one of the implementing organisations, Oludotun Babayemi, hinted that the YIA programme was created to empower 30 million young Africans between the ages of 25 and 35 in the field of monitoring and evaluation by 2030, with 10 million of that number being targeted to come from Nigeria due to its large population.
He continued by saying that, as a result, one of his organisation's tasks was to locate the 12 outstanding young Nigerians who had been a part of the consortium for a year in order to teach them about monitoring and evaluation and how to position themselves for employment after completing the training.
"And we're talking about monitoring and evaluation in the context of government policies and international development partners, in addition to other projects all over the country," Babayemi explained.
The Cloneshouse CEO applauded the recently enacted monitoring and evaluation policy, which he believes will help accelerate the achievement of the YIA scheme by developing young people that are capable of carrying out monitoring and evaluation activities in Nigeria.
Asheadzi Yusuf-Wasuku, a graduate of the YIA programme, stated that she was inspired to apply because of the scheme's unique concept, which allows young people with no prior experience in monitoring and evaluation to participate in the life-changing initiative.
"I will strongly encourage young people in Nigeria to actively pursue opportunities of this nature because they are useful and provide real-world experience," she said.
By Etta Michael Bisong, Abuja