On the International Women's Day, a toxics watchdog group in the Philippines took online shopping giants to task for their failure to rid their platforms of poison cosmetics, particularly mercury-containing skin whitening facial creams that are marketed for women's use.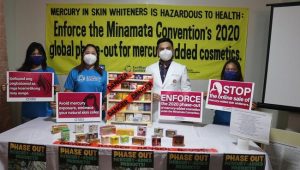 At a press conference held on Monday, March 7, 2022, the EcoWaste Coalition also pointed out that the easiest, cheapest and safest way for women and other consumers to protect themselves against the health-damaging effects of mercury exposure is to accept their natural skin colour and avoid the use of skin whitening products with hidden mercury content.
"Despite supposed policy disallowing sale of prohibited products and those flagged by health authorities, defiant third-party dealers continue to advertise and sell skin whitening products laden with mercury or those lacking the required cosmetic product notifications in online shopping sites," stated Aileen Lucero, National Coordinator, EcoWaste Coalition, adding that "the unabated online sale of these poison cosmetics makes a mockery of global and national regulations banning such cosmetics to reduce health risks, especially among women, from preventable sources of mercury exposure."
Globally, the Minamata Convention on Mercury, which entered into force in August 2017, lists cosmetics such as skin lightening creams and soaps with mercury content above one part per million (ppm) among products whose manufacture, import or export would not be allowed by 2020.
The Philippines as a member state of the Association of Southeast Asian Nations subscribed to the ASEAN Cosmetic Directive that in 2007 included mercury and its compounds on the "list of substances which must not form part of the composition of cosmetic products."
"The sale of these mercury contaminated cosmetics is a breach of the Minamata Convention and a significant public health threat. The levels of mercury in these cosmetics would see them classified as hazardous waste in most parts of the world. We would encourage public health and enforcement agencies in the Philippines to conduct an immediate, focused joint exercise to force these hazardous products out of the marketplace and protect consumers.
"Suppliers of these tainted cosmetics should be identified and prosecuted as a deterrent to others who would risk the health of the public for profit. The world has agreed via the Minamata Convention that there is no future for such hazardous products and that parties to the convention should prohibit all sales of these cosmetics by 2020. It is past time to enforce the law on this issue," said Lee Bell, Mercury and POPs Policy Advisor, International Pollutants Elimination Network (IPEN).
Environmental health specialist Dr. Geminn Louis Apostol of the Ateneo Centre for Research and Innovation explained: "Mercury is a toxic element and even small amounts of this chemical is hazardous to human health. For mercury-containing skin lightening creams, mercury is released through usual product use with dermal contact and inhalation as common exposure routes. Repeated applications can harm the kidneys, the brain and the central nervous system, cause skin discoloration, rashes and scarring, and lessens resistance to bacterial and fungal skin infections."
The use of mercury-containing skin whitening products by pregnant women is of utmost concern as mercury is known to cross the placenta during pregnancy and accumulate in foetal tissues, affecting the developing brain and nervous system of the baby in the womb and causing neurodevelopmental disorders, Apostol said. Foetuses, infants and young children are highly susceptible to mercury and other environmental toxicants.
Test buys conducted by the EcoWaste Coalition at Lazada and Shopee on February 2 to 22 collected 31 skin whitening facial creams representing 21 brands and costing between P24 to P1,270 each. The products were from mainland China, Hong Kong, Indonesia, Malaysia, Pakistan and Thailand. Among them were products flagged by the Food and Drug Administration (FDA) for containing mercury above the maximum limit of 1 ppm or for being offered for sale without market authorisation.
To determine the presence of mercury on the samples purchased from online entrepreneurs, the group subjected the products to mercury screening using an Olympus Vanta M Series X-Ray Fluorescence (XRF) analyser, which detected mercury in all but five samples.
Based on the Internet search conducted by the EcoWaste Coalition, regulatory agencies in other countries have also flagged some of the mercury-containing products analysed by the group. In 2014, for example, Hong Kong's Department of Health advised the public not to use Santen, after a 28-year-old patient (a Filipina) was hospitalised for mercury poisoning.