Community representatives participating in Africa's first Wildlife Economy Summit this week in Victoria Falls, Zimbabwe, have called on African Governments, the private sector and international organisations to recognise the integral role of communities in the ownership, management and conservation of the natural resources that drive the continent's wildlife economy.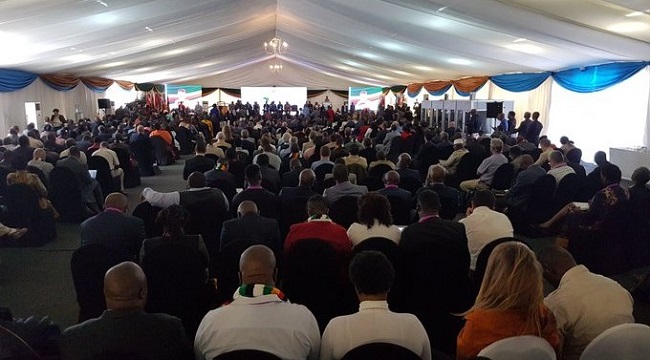 In a Declaration signed by 40 community representatives, the participants emphasised that communities are the "front line of defence in protecting natural resources and combating illegal wildlife trade", urging leaders and other stakeholders in the wildlife economy to address their concerns in the spirit of environmental and economic justice.
"We need to see reform, where our communities are put in control of the nature and wildlife they live with – at the moment, decisions are taken by others and imposed on us," said Ishmael Chaukura, a community representative from in Mbire, Zimbabwe, attending Summit. "Communities see only a fraction of the income from wildlife and nature earnings, yet we bear the costs of living with wildlife."
"We feel that the governments and other partners understand the importance of the communities in conservation, as caretakers of protected areas – we should see this reflected through the revenue these areas and wildlife bring in," he added. "What we need to see is action and follow-through from this Summit."
The Africa Wildlife Economy Summit, convened by the UN Environment Programme (UNEP) and the African Union (AU) and hosted by Zimbabwe's President Emmerson Mnangagwa, brought together governments, local communities, the private sector, technical experts to work towards changing the way the continent manages its nature-based economy.
In attendance at the Summit were Botswana's President Mokgweetsi EK Masisi, Namibia's President Hage Geingob and President Edgar Lungu of Zambia, as well as well as business leaders, academics, civil society and 14 ministers from across Africa.
"We encourage a process where accruing benefits from natural resources are fairly and equitably shared among communities living within wildlife areas," President Mnangagwa said in his remarks. "This way, the wildlife resources add value and improve the quality of life of local communities."
According to the Intergovernmental Science-Policy Platform on Biodiversity and Ecosystem Services (IPBES) Global Assessment released in May, land and nature managed by local communities is under increasing pressure, but is declining less rapidly than in other lands.
"A sustainable wildlife economy benefits people and nature, using habitats and wildlife in an ecological, economic and socially sustainable way," said Joyce Msuya, UNEP's Deputy Executive Director. "When communities living closest to wildlife have a clear role and stake in managing nature, they have a stronger incentive to conserve it."
The Summit also aimed to develop public-private partnerships to help build a sustainable nature-based economy.
For example, international conservation organisation, Space for Giants, announced two new conservation investment initiatives – one for Gabon, and one for Zimbabwe – with the African Wildlife Foundation and the World Bank. The initiatives draw on a pilot in Uganda that unlocked $61 million of new investment, and are expected to implement a Wildlife Economy Toolkit for national parks launched by Space for Giants at the Summit.