Preliminary findings of a research project on urban resilience to climatic induced flooding in Ghana's urban centres, particularly the Greater Accra Metropolitan Area (GAMA) suggest that the incidence of flooding is likely to increase in the face of poor solid waste management, poor drainage system, inconsistent spatial planning and lack of data and human attitudes.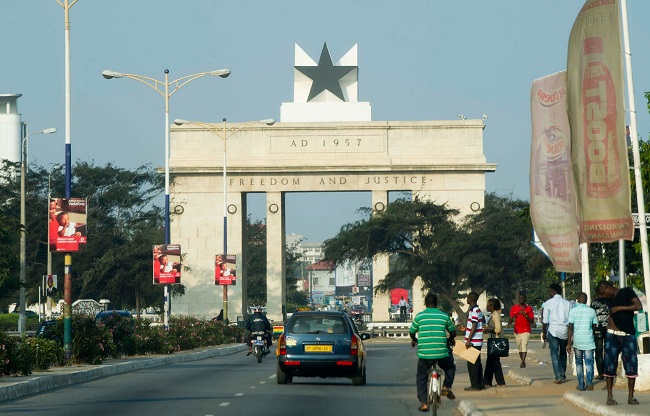 The findings further indicate that flood risks are now undermining regional planning models due to cross border effects.
To effectively deal with the situation, will require measures including joint and inter municipal and district planning to ensure that development activities in one municipality or district does not create or transfer the flood hazard to neighbours. Another measure proposed is the development of a cross sector driven integrated flood management strategy targeting relevant issues including solid waste as it relates to floods and its management.
These are some of the recommendations from the research project known as "Managing socio-demographic change and climate induced flood risks in Greater Accra." The project is being implemented under the Cities and Climate Change Initiative of the Regional Institute of Population Studies (RIPS) of the University of Ghana with support from the International Development Research Centre (IDRC) of Canada.
The project was necessitated by evidence that Ghana's capital city Accra has been showing signs of shocks and stresses of urbanisation and population growth, as demand for social amenities has outpaced available resources including land. These are coupled with heightened exposure to increased climate change – induced frequency and intensity of rainfall. While poor and indiscriminate disposal of solid waste, choke water channels and drains.
"These are major determinants of flooding in the city of Accra including Accra's location between the sea and the surrounding environs of the Akwapim mountain range," according to the principal Investigator on the Project, Dr, Delali Dovie.
In an interview, he stressed, "It is therefore no wonder that the incidence of flooding has over the years become a perennial occurrence in Accra in particular," adding, "the city's worsening flooding situation is also attributed partly to poor spatial planning and improper infrastructure.
Therefore, the project aims to improve the management of flood risks and enhance resilience in Accra's readiness for future floods by developing an integrated climate smart flood management framework and engender evidence-based policy action. This was linked to baseline studies that identified flood as climatic hazard and how it affects population across scale from households to communities, to districts and the entire nation.
The project, which started in November 2016 and will end in November 2019, is being implemented in two communities each from seven Assembly areas namely: Adentan Municipal Assembly (AdMA), Accra Metropolitan Assembly (AMA), Ashaiman Municipal Assembly (AshMA), Kpone Katamanso Municipal Assembly (KKDA), La Dede Kotopon Municpal Assembly (LaDMA), Tema Metropolitan Assembly (TMA) and Ledzokuku Krowor Municiapal Assembly (LEKMA).
These areas were selected based on their geographical sites; environmental, social and economic causes of their vulnerability to flooding; and their population densities.
Since its inception, the project team has been working with scientists, institutions, the vulnerable assembly areas and communities as well as other relevant stakeholders to translate science into effective into effective management of floods in the Greater Accra Metropolitan Area.
The methodology for data collection included gathering baseline information on physical indicators of flood exposure such as water marks on structures to know the depth of flooding, presence of muddy puddles even during sunny days, and outgrowth of shrubs in residential areas.
The project team also held several Town Hall meetings for relevant stakeholders from the 14 project communities and public officials within the seven Assemblies. These were followed by household surveys and focus group discussions. The combined data gathering techniques facilitated the collation of a convergence of lessons learnt from a diversity of stakeholders belonging to different groups.
They established that communities such as Ogbojo, Adenta East around the Commandos area, Glefe, Teshie Abochie area, Tema New Town, Tulake and Zenu in the project area are among the most susceptible to flooding within the Greater Accra Metropolitan Area.
Community members appreciated the assessment process that enabled them to establish links between changes in their livelihood and induced frequency and intensity of rainfall. Additionally, officials of the Assemblies who benefitted from the Project Policy Fellows scheme under the Theory "U" Leadership Model, now serve as change agents for adaptation planning and resilience building.
The study also covered relevant national institutions such as Town and Country Planning now Land use and Spatial Planning Authority; Ministry of Local Government and Rural Authority; Ministry of Environment, Science, Technology and Innovation; and Environmental Protection Agency. The others were Ministry of Water Resources, Works and Housing now split into Ministry of Sanitation and Water Resources and Ministry of Works and Housing; National Disaster Management Organisation; Ministry of Lands and Natural Resources and the National Development Planning Commission (NDPC).
The assessment revealed general deficits in skills, capacities and logistics for flood risk management; inadequate comprehensive, inter-sectoral and integrated flood risk management and processes; and non-existence of standard procedure for integrated flood risk assessment and policy coherence.
Other gaps identified were: inadequate use of data and information for policy and management decisions; deficit in knowledge and practice of geo-technological staff in flood risk assessment and management; weak appreciation of the conceptual basis of climate smart integrated flood risk management and non-existence of operational integrated planning at the Assemblies.
As part of its recommendations, the project team is calling for a joint evolution of knowledge management including scientific data and provision of information to help minimize the transfer of flood hazards from neighbouring districts and communities to previously flood free areas.
The project team also called for the use of remote surveillance such as monitored cameras to monitor solid waste management and drainage networks. It further recommended the need to enhance knowledge and skills on the effective use of technology for flood management such as Remote Sensing and GIS as well drone technologies.
The team proposed the adoption of proactive problem-based management of flood risks that cuts across several sectors and systems. It will also require the development and deployment of citizenry flood dissemination platforms and flood early warning systems.
Besides, the team is calling for the promotion of the Ghana National Spatial Development Framework to guide evidence-based development and revision of laws and regulations on land use in Ghana.
Dr. Dovie explained that the project team is working closely with the National Development Planning Commission to incorporate the recommendations and findings into the existing pool of knowledge and data to support Ghana's Medium Term Development Planning. The findings and recommendations will further support the strengthening of the adaptation component of Ghana's Nationally Determined Contributions (NDCs) on resilient infrastructure.
The NDCs outline efforts that countries will undertake to reduce national emissions and adapt to the impacts of climate change. NDCs are at the heart of the Paris Climate Agreement of 2015, which among other goals sought to lower greenhouse gas emissions in a manner that does not threaten food production.
By Ama Kudom-Agyemang