The European Union and Germany have come under intense pressure to put an end to child labour and deforestation – offshoots of growing cocoa plantations in the developing world.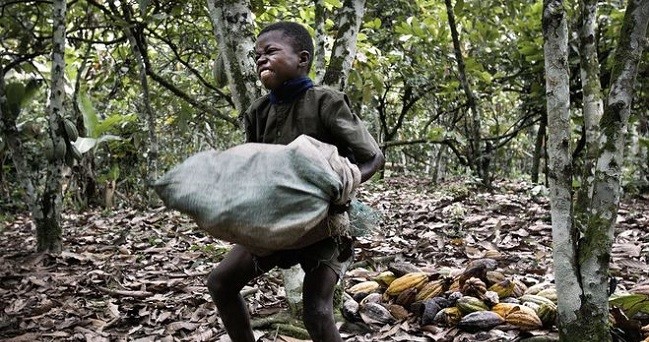 As Germany is expected to reach a decision on the issue soon, the popular desire is for the country to champion the campaign to halt the menace.
Reinhard Behrend of the Rainforest Rescue is bothered by the fact that while rainforests on one hand are cut down for cocoa plantations, children from poor homes are, on the other hand, made to work on the plantations for a living.
"Some 1.2 million children are forced to work on plantations and have no perspective of ever lifting themselves out of poverty. In many places, the expanding plantations are eating their way into protected rainforest areas," he said, even as he clamoured EU-wide regulations "to put an end to these abuses".
His words: "Germany is the largest cocoa market within the EU, and regulation with teeth can only be realised if the German government is on board. The German cabinet, however, disagrees over how to deal with the issues of deforestation and child labour: While the Development Ministry is in favour of a proactive approach, the Agriculture Ministry is digging its heels in – as it often does whenever environmental protection is at stake."
A decision will be reached soon, and observers are hoping that Germany will lead the fight against the abuses rather than turn a blind eye towards them.
Behrend added: "Many of the cocoa plantations were established where rainforests used to grow. Ivory Coast, one of the world's biggest cocoa suppliers, has lost almost all its forests, including some of the last habitats of the critically endangered chimpanzee. Even national parks are being cut for cocoa production. In Peru's Amazon region, hundreds of hectares of untouched forests have been destroyed.
"None of this is new. Producers have been promising for two decades to end child labour, human rights violations and environmental destruction, but little has improved. They fear losing customers and profit if they make the first move and raise their prices while their competitors continue to sell cheap. Promises and voluntary initiatives clearly don't work, so we need legally binding EU regulation."
As a way out, he stated that cocoa imported to the EU must henceforth be:
free of human rights abuses, including child and forced labour
provide a living income for farmers so they can feed their families
free of deforestation and environmental destruction.
He added: "The EU is the number-one cocoa importer and manufacturer and consumer of chocolate worldwide. If the EU doesn't deal with this crisis, no one will. The EU needs to take responsibility! A key figure holding the EU back from acting is Germany's minister for agriculture, Julia Klöckner. Ms. Klöckner should know that children don't belong on plantations and that intact forests are more important than Europe's sweet tooth."
Rainforest Rescue is seeking signatories to a petition apparently aimed at the German government and demanding it to put a stop to the development.