As the subject of climate change gradually becomes one of global concern, Nigeria has remained central in the conversations and actions related to climate action. In Kwara State, an anti-littering group, PickThatTrash, has called on Nigerians to be actively involved in leading the fight against the changing climate.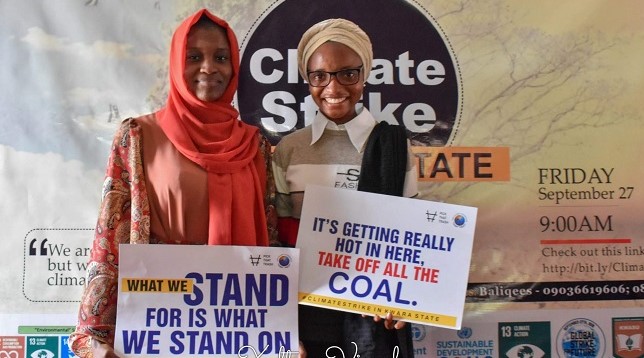 This call was made on Friday, September 27, 2019 during a programme themed: #ClimateActionInKwaraState, which was jointly organised by Pick ThatTrash and Bays Planet Foundation at the Kwara State University, Malete.
In her opening remark, the Convener, Ms. Baliqees Salaudeen, praised the efforts of 16-year-old Swedish activist, Greta Thunberg, who since November 2018 decided to boycott school every Friday and gradually went on to lead a global Climate Action called #FridayForFuture and #ClimateStrike.
Greta's aim is to call government officials and world leaders to take urgent actions to address the challenges posed by climate change.
According to Salaudeen, "I brought the Climate Strike to Kwara State because climate change is a general problem that concerns everybody in the world; it is a global challenge warning that needs urgent attention from both the government and the individuals. We shouldn't wait until our planet collapses before we act; we should act against climate change now as we only have one planet."
Delivering a keynote address, Olayinka Otukoko, a scientist and researcher, said: "Climate change is a general challenge that concerns every inhabitant of the earth. The problem of climate is not sectional, it is a global challenge."
He also advised everyone that, in order to continue to have a healthy living, each and every one must be fundamentally responsible by planting at least one tree in their house. He also urged everyone to stop indiscriminate cutting of trees.
As part of the event, Salaudeen moderated a panel session to discuss why climate change should be a collective concern, highlighting the corresponding dangers. The discussants on the panel included Mr. Albert Kure, Thought For Food company; Ms. Abdulrahman Salma, Executive Director MACAA; Yakub Olawale, Climate Innovation Hub in Kwara State and Olayinka Otukoko, a researcher.
At the close of the event, the group made some recommendations to the Federal Government of Nigeria which included: The need for improved research on waste generation, the urgency to sign the Climate Action bill, adopting local approaches to build climate resilience, enactment of policies to stop deforestation, and increased education about climate change and related issues.