The lack of access to potable drinking water, electricity, and sustainable agricultural practices that are caused by the increasing activities of big oil multinationals operating in the Niger Delta area has compelled the Prime Initiative for Green Development (PIGD), an environmental rights organisation, to cry out and seek an end to the ongoing environmental abuses presently threatening the livelihood sources of the inhabitants of the region.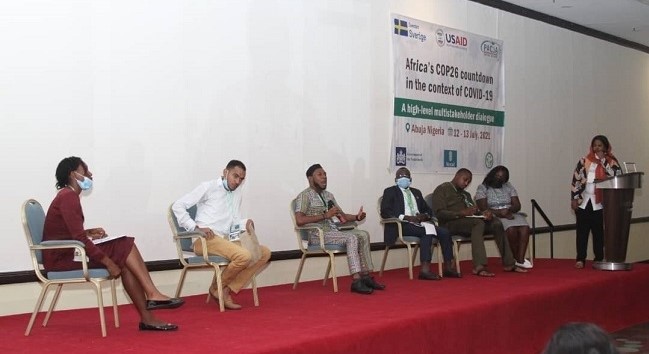 PIGD also wants the government to include young people in all the policy formulation processes and train them on various skills around green businesses to tackle unemployment, reduce insecurity, and most importantly safeguard the environment.
"As young people all that we demand is climate justice and we want it now," says Tito Uzomah, the Executive Director of PIGD.
Uzoma, who made the demand during an event organised by the Pan African Climate Justice Alliance (PACJA) on Monday July 12, 2021 in Abuja to deliberate ahead of the upcoming Conference of Parties (COP26) scheduled to hold by November in Glasgow, said it is unfair to deprive people living in those communities of access to clean drinking water because of its importance to their survival.
He lamented that the occupants of these localities, most of whom traditionally combine small scale farming and fishery as their primary sources of livelihood, are today threatened because of the environmental devastation that has polluted the land and water surface.
As countdown to the long-awaited event gets nearer, the environmental rights campaigner urged that African countries properly prepare before attending COP26 in Glasgow to avoid mistakes and achieve their desired expectations.
"It is necessary to go to the COP with something on the table for use to negotiate because most times we end up accepting things that we cannot implement due to lack of preparation," he said.
For him, therefore, it is important for African countries to come up with something unique and use it to negotiate to balance the differences in climatic phenomena.
He highlighted the need to support and engage the youths on the dynamics of climate change to enhance their understanding and help them champion the future they want to see.
With support from PACJA, he said his organisation was able to create content that promote climate justice and engage various activists on social media as part of measures to curb the negative impacts of COVID-19 on vulnerable communities.
Some of the success stories of the exercise, he noted, include the training of young people on waste management, plastic policy, as well as how to convert sawdust into clean cooking gas.
By Etta Michael Bisong, Abuja