Scores of Extinction Rebellion climate activists held sit-ins at London City Airport on Thursday, October 10, 2019 after vowing to shut it down, but only minor disruption was reported.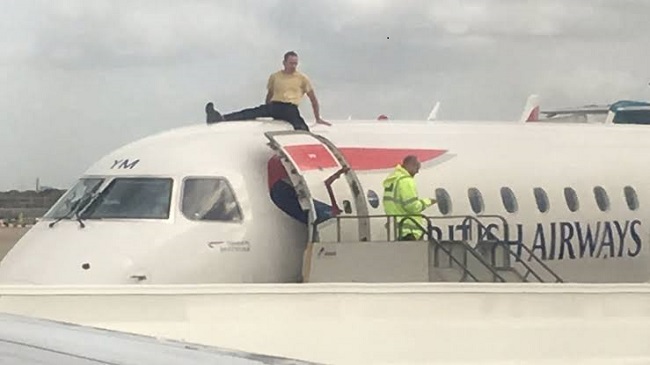 Up to 100 activists staged a sit-in in an airport lounge, according to reports and footage of the protest, while others sat down on an access road.
A former paralympic athlete, James Brown, climbed on top of a passenger jet at the airport, live-streaming his protest via Facebook.
"I'm on top of a British Airways plane to draw attention to government inaction on climate and ecological breakdown.
"This is for my kids, it's for everyone's kid'' he lamented before his video showed police and security personnel surrounding the plane.
Brown, who is partially sighted, competed for both Britain and Ireland in paralympic events including cycling and running.
A few protesters climbed onto a low roof over the main entrance to the airport, hanging a banner with the message "our planet is dying.''
City Airport is one of the smallest of the six international airports that serve the British capital.
The Metropolitan Police arrested a man who staged a protest on board a plane that was waiting to take off for Dublin, after he refused to leave the plane.
The force said officer also arrested several people outside the airport.
It added that it had detained 842 people on Thursday morning over the first four days of a planned two weeks of global protests by the climate activists.
Deputy Assistant Commissioner Laurence Taylor said in a statement "Our policing plan is aimed at preventing criminal activity which poses a significant safety and security risk to the airport, and the thousands of passengers using it.
"We are determined to deal with protesters robustly but proportionately.''
Taylor said that targeting the airport was wholly unacceptable and irresponsible.
The police imposed conditions limiting the protests to a single site at central London's Trafalgar Square from Tuesday.
Extinction Rebellion UK said the remaining protesters at Trafalgar Square and an encampment in St James' Park were being instructed to clear.
Contacted by phone, the police said they could not immediately confirm if any clearance order had been issued.
Police and airport authorities restricted access to London City terminal buildings by requiring anyone entering them to show a boarding pass.
The airport said it remained fully open and operational.
In Paris, meanwhile, Extinction Rebellion protesters continued their blockade of a major square and junctions in the heart of the city for the fourth day running.
There was a low-key police presence, in contrast to a previous action in June when footage of police tear-gassing protesters at close range went viral internationally, drawing a rebuke from teenage climate activist Greta Thunberg.
Paris' Socialist Mayor Anne Hidalgo said on Wednesday that she supported the protesters as long as they are non-violent.