The Centre for Climate Change and Development at Alex Ekwueme Federal University, Ndufu-Alike Ikwo, in Ebonyi State and its partners – Techno Oil Limited and Africare – have distributed 150 LPG cylinders to two communities in the South-East in an effort to get rural women to abandon hazardous and climate polluting open air fire cooking and embrace clean low carbon cooking.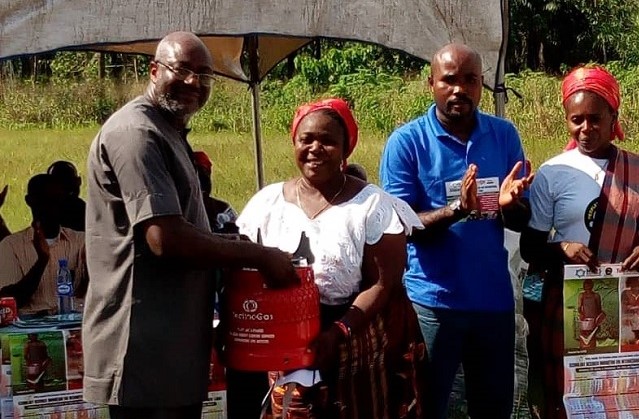 The distribution of the 6kg gas cylinders was made possible courtesy of a research grant from the UK Department for International Development under the Modern Energy Cooking Services – Technology Research Innovation for International Development (MECS-TRIID) provided through Loughborough University.
The beneficiary communities are Arondizuogu in Ideato Local Government of Imo State and Okpanku in Aninri Local Government of Enugu State.
Women groups from the two communities trooped out during the project launch and thanked Professor Chukwumerije Okereke, Director for the Centre of Climate Change and Development at FUNAI, and his team of researchers for attracting the project to their communities.
They noted that cooking with firewood consume plenty of their time and that in more recent years they are forced to travel longer distances in search of firewood due to deforestation. They lauded Professor Okereke and his team for educating them on the negative health impacts of open fire cooking and committed to spreading the information to other rural women.
According to a World Bank Report of 2018, three billion people across the developing countries of the world, mainly in rural areas in sub-Saharan Africa, still rely on traditional biomass, coal or kerosene for cooking on primitive stoves or open fires. This number has been rising steadily in recent years with population growth exceeding the growth in households gaining access to modern fuels like LPG.
Traditional cooking practice is said to have an enormous socio-economic cost. Exposure to indoor air pollution emerging from cooking with wood fuels causes environmental degradation, lung cancer, cardiovascular diseases, chronic obstructive pulmonary disease and premature death of over 93,000 people in Nigeria per annum (mostly women and youths) making it the third killer disease in Nigeria after HIV and Malaria, says the World Bank Report.
By addressing a major cause of death, gender inequality, deforestation, and low economic productivity in sub-Saharan Africa, the project, says its promoters, is aligned with DFID priorities especially those of tackling extreme poverty and helping the world's most vulnerable by improving access, supply and quality of basic energy services.
Specifically, the DFID funded project seeks to tackle the multiple barriers of LPG access by deploying a novel business model which involves letting members of women co-operative groups to access low-volume 6kg cylinder gas stoves and pay for LPG in a "Pay-as-You-Use" flexible manner while the energy service provider maintains ownership of the equipment and additionally offers targeted awareness and maintenance services.
Furthermore, the approach will also involve the provision for transforming the women groups into social enterprises dealing in LPGs as well as for brand franchising to interested entrepreneurs. It is expected that the innovative delivery solution combined with locally-tailored campaign and positive group influence of the women cooperative groups will catalyse uptake as well as the affordability and sustainability of supply of LPG to these communities.
The research is also collecting data on the knowledge, perception and attitude of the women with regards to the transition modern cooking services especially the use of LPG. The objective of the project team is to explore how to overcome the barriers against the wide-scale and sustained adoption of LPG for cooking services in Nigeria, and Africa at large.
"This is necessary given because although the widespread adoption of clean cooking services has been a national priority for the Nigerian government and her developments partners over the last 10 years, the results have remained frustratingly slow as a vast majority of women still rely on traditional open-air cooking for their business and house-hold needs," said the leader of the project, Professor Okereke.
He expressed unhappiness over the fact that Nigeria produces over 2MTPA of LPG, but consumes an average of 30% of the production volume. He said that with a per capita consumption of just slightly above 2kg, LPG is the least utilised in Nigeria amongst the four major cooking fuels – firewood, kerosene, charcoal and LPG.
He added that it was unacceptable that countries like Ghana and Senegal that do not have as much gas reserve as Nigeria have higher rate of the adoption of LPG.
He noted that switching to LPG would improve the quality of the people's lives and bring far-reaching social, economic and environmental benefits
"I'm positively overwhelmed by the passion and enthusiasm demonstrated by the women and there has been massive oversubscription of the cylinders in the two case-study communities. We thank Loughborough University for the funding and the other project partners – Techno Oil and Africare – for the technical support, advocacy and excellent gas handling safety training they have so far provided to women in the two communities," Okereke stated.
By Chigozie Kennedy Ahanotu (Green Economy Expert Director in Society for Planet and Prosperity, Abuja)