Mr Sean Melbourne, Head of Climate Change and Energy West Africa, British High Commission in Abuja, speaking at the LAPESA webinar to commemorate the 2021 International Day of Clean Air for Blue Skies on Tuesday, September 7, 2021, explores partnerships for air pollution between Lagos and London in the light of the forthcoming UN Climate Change Conference – COP26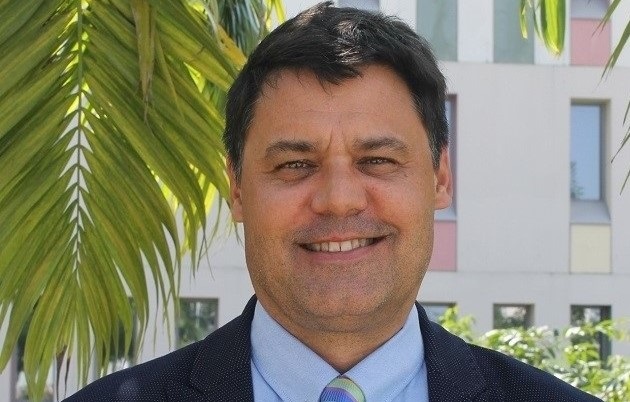 Air pollution is the world's largest environmental health risk, killing an estimated seven million people every year. Air pollution is probably affecting every organ of your body, at every stage of your life.
In less than eight weeks, the UK Government will host COP26, the biggest event of its type that the UK has ever hosted. The COP26 Climate Summit will bring parties together to accelerate action towards the goals of the Paris Agreement and the UN Framework Convention of Climate Change.
In the final run-in to COP26, we will use the power of a fair and inclusive Presidency to bring governments, business, civil society and indigenous peoples together to drive action across key sectors of the economy to reduce emissions, to mobilise finance, to adapt and build resilience to the effects of climate change and to make real progress in the largest emitting sectors of power, road transport and land use.
Ultimately, we are committed to representing the interests of all parties, and ensuring that an ambitious, comprehensive and balanced outcome that leaves no issue and no one behind.
The benefits of tackling climate change are numerous and fundamentally in the interests of us all; amongst them are cleaner air, healthier communities, sustainable economic growth, energy security and a safer, more stable climate.
Moreover, it's not a binary choice between cleaning up our environment and growing our economies. Clean growth represents the most significant economic growth opportunity of the 21st century.
The cost of renewables and other low carbon technology has fallen far more than anticipated in recent years. Solar and wind are already cheaper than coal power in two thirds of the world and are predicted to undercut commissioned coal and gas almost everywhere by 2030. The Global trade in low-carbon goods and services is expected to grow from £150bn in 2015 to between £2.8 and £5.1 trillion pounds in 2050.
But to meet the Paris Agreement goals, we must decarbonise the global economy three to five times faster over the coming decade than we have over the last two decades, and also achieve a step change in resilience. For this, we need both stronger national action, and stronger international collaboration, focused on the practical challenges that we all share – that cities such as Lagos and London share.
One of the main causes of air pollution is the burning of fossil fuels and it's worth noting that global emissions from the road transport sector are rising faster than any other sector. In Lagos and in London you can see and taste the pollution. But political leadership, technology and lifestyle changes can make a big difference.
That is why we have urged countries and sub-national actors to commit to making all new car and vans zero emission by 2040 or earlier and to come forward with effective supporting policies for the deployment of zero emission vehicles.
This agenda is gaining traction. We were pleased that last month Nigeria joined the Zero Emission Vehicles regional dialogue for Africa to explore how barriers can be overcome to accelerate clean transport, and also harness the significant opportunities
this can bring for green jobs, prosperity and yes, cleaner air, and healthier cities and towns.
And there are alternative, better modes of transport that can dramatically reduce congestion and pollution at the same time. Global Britain is currently at work in Africa's largest economy and most populous city to unlock major development and investment opportunities in urban planning, road and waterways freight and passenger transport.
For instance, Thames Clippers, London's iconic water transport operator, are currently working with Lagos State to create large-scale bankable water transport and freight transport opportunities.
Under our Future Cities Nigeria programme, we are partnering Lagos State and investing in climate and environment smart urban and transport orientated development centred on scalable, inclusive economic development.
Some of the benefits of this programme include safer, cleaner, reduced cost transport for 480,000 people with a reduction of 95% in per capita CO2 emissions when transferring from car to ferry.
Overall, we estimate that 8.1mn people will be positively impacted with improved access to water and sanitation with the implementation of Future Cities Nigeria urban renewal guidelines.
Around the world, studies also show that carbon pricing can be an effective tool to incentivize higher carbon efficiency and boost government revenue, whilst promoting a more level playing field for clean transport options. A policy decision to remove fossil fuel subsidies could further accelerate this trend to cleaner transport.
The COP26 Presidency warmly welcomed the recent submission by Nigeria of a revised Nationally Determined Contribution to tackle climate change. This included a number of new specific policy commitments which, if implemented, could significantly reduce air and other pollution for example the elimination of kerosene lighting by 2030 and a greater uptake of bus rapid transit. And we were pleased that in the NDC, Nigeria recognises the critical importance of taking action to reduce short-lived climate pollutants like black carbon, methane and hydrofluorocarbons.
The recent report from the Intergovernmental Panel on Climate Change underlined that there is no pathway to limiting global warming to 1.5 degrees Celsius without strong reductions in short-lived climate pollutants as well as Greenhouse Gases.
In this regard, we also welcomed Nigeria's commitment to promote the transition to energy efficient air conditioning using low natural refrigerants in residential, commercial and public buildings.
The UK will support the implementation of Nigeria's revised NDC in several ways. We are sponsoring a climate finance adviser to support the development of a climate finance needs assessment and corresponding climate finance strategy. The adviser is helping to build capacity in salient aspects of climate finance and design, including on- the job training and coaching of MDA staff.
The UK can also support cities like Lagos through its new flagship climate mitigation programme, UK PACT. UK PACT supports countries that strive to overcome barriers to clean growth and have emissions reduction potential to accelerate their climate mitigation efforts.
More broadly, COP26 represents a crucial moment for ensuring that international support and finance flows get us on the right track to reduce emissions, with additional benefits such as cleaner air and healthier societies.
We commend efforts by the Lagos State Government to boost climate action which also have wider socio-economic and environmental benefits. In 2018, Lagos State signed up to the C40 initiative, committing it to developing and implementing a Climate Action Plan aligned with the goals of the Paris Agreement on climate change, with the ultimate goal of achieving carbon neutrality by 2050.
We also welcome the publication last year of its Resilience Strategy.
I hope Lagos will go one-step further and partner London and a growing number of other progressive cities by joining the COP26 Race to Resilience campaign, and indeed that Lagos will champion this campaign in Africa well beyond November's Summit.
The benefits of doing so are numerous. Joining the Cities Race to Resilience is also compatible with partner initiatives such as the Climate Finance Gap Fund (Gap Fund). The Gap Fund supports cities by providing grants for early-stage technical assistance for climate change mitigation and adaptation projects. The Gap Fund focuses on cities in middle- and low-income countries who often struggle with developing climate friendly and resilient infrastructure.
The Gap Fund has an important role in helping cities in their medium-to-long term recovery efforts. It does this by helping city leaders build a pipeline of high quality, climate-smart urban investments, with a focus on early, often underfunded stages of project identification and preparation. The Fund can also facilitate connections between cities and prospective financing partners, for example the World Bank and third-party financiers.