Executive Director of the United Nations Human Settlements Programme (UN-Habitat), Maimuna Sharif, has stressed the importance of city-level action to address climate change.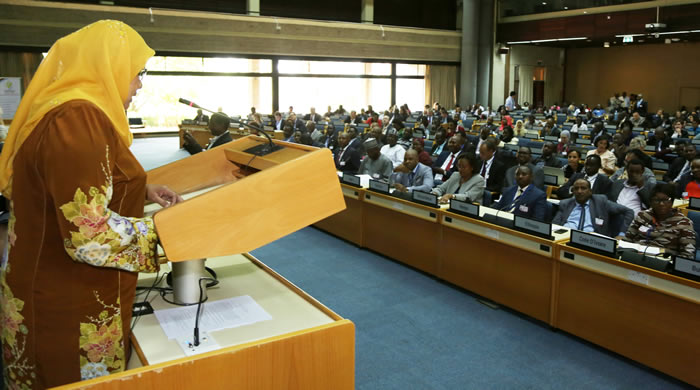 She made the submission in an address to Ministers during the High Level Ministerial Opening of the Africa Carbon Forum during the Africa Climate Week held recently in Nairobi, Kenya.
Sharif in her presentation focused on the key role of local governments to help national governments to better achieve their climate targets. In her plea, she reminded the audience that cities are engines of growth, cities being "for the people and people for the city".
She stressed the importance of city-level action to address climate change, and provided examples of mature technologies and approaches such as Bus Rapid Transit and waste-to-energy plants that can take place at the city level.
She also emphasised the need for multi-level governance to achieve targets. "Widening the range of actions that can be taken, and fully involving local governments as actors, will make it possible to achieve (climate) targets in a more cost-effective manner," she said.
The UN-Habitat boss also stressed the fact that "not only cities are needed but also the civil society, the private sector and other stakeholders to jointly explore with national officials such possible collaborations and strengthened frameworks". Multi-level governance, she adds, is fundamental to achieve targets, taking also into account the urban and territorial dimension of carbon emissions.
Considering the role of cities in meeting national targets, she also called for new market-based mechanisms to help African countries meet their current targets, and set more ambitious targets, to reduce emissions. In particular, "there is a need to establish new, or scale up existing, city- and sub-national level carbon pricing schemes," said Sharif. In that regard, she also emphasised the importance for "Member-States to consider how to empower and fully engage local governments to help implement their Nationally Determined Contributions"'.
The Executive Director ended her address with a commitment of UN-Habitat to support African countries to integrate human settlements into their National Adaptation Plans, and mainstream climate change into their National and City Urban Policies. She also committed to support countries to apply to the Adaptation Fund for resources to help human settlements become more resilient to the effects of climate change, and national-level Talanoa Dialogues to deepen the discussion at the Africa Talanoa Dialogue.
As part of her plea for including cities in climate change strategies for the Continent, Sharif concluded on a positive note by saying: "We would like to see Africa greener, cleaner, healthier, safer and so happier."
The event, held at the UN Headquarters in Nairobi, was opened by Keriako Tobiko, Cabinet Secretary, Environment and Forestry of the Government of Kenya. Eminent speakers included Patricia Espinosa, UNFCC Executive Secretary; Tomasz Chruszczow, High Level Champion for COP 24 in Poland; and Ligia Noronha, Director of the Division of Technology, Industry and Economics, UN Environment.
The Climate Week and the Africa Carbon Forum are key moments to sensitise Africa towards the implementation of the 2015 Paris Agreement and to address climate issues in the regional context. The Africa Carbon Forum is also meant to explore market-based mechanisms to help countries meet their current targets to reduce emissions.
In their addresses at the forum, key speakers discussed the need for a new and robust mechanism to help African countries meet their ambitious targets for the continent. They also emphasised the unique capacity of Africa to achieve and innovate.
"Africa has the spirit, the innovation and the power to achieve," said Espinosa, adding that Africa is in a "unique situation for building a resilient and sustainable society". She called on Africa "to take the lead in climate change action, working on the ground through integrated policies, aligned to commitments to Paris agreement and SDGs". ‪