The Green Climate Fund (GCF) has welcomed Canada's announcement of a pledge of CAD 450 million for GCF's second replenishment (GCF-2).  A contributor to GCF since the Fund's initial resource mobilisation period, Canada's pledge represents a 50 per cent increase from its pledge for GCF's first replenishment (GCF-1).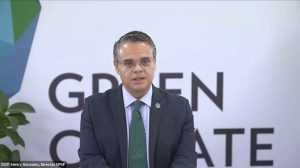 Canada is the fifth contributor to announce a pledge for GCF-2, joining the ranks of Czechia, Austria, Germany and Monaco.  The significant increase in Canada's contribution is warmly welcomed by GCF as it sends a strong signal of Canada's commitment to global climate action and its confidence in GCF to drive urgently needed climate progress. Canada's pledge builds on the growing momentum for GCF's second replenishment in the lead up to the Fund's pledging conference in October.
Henry Gonzalez, GCF interim Executive Director, said: "This pledge from Canada is great news for GCF, and great news for climate action. Canada is increasing its financial support to GCF by 50 per cent – a big increase at a time when climate finance is most needed. Global solidarity and collective action are needed more than ever to respond to the escalating climate crisis.  I hope other contributors will be inspired by Canada's ambition and increase their support for GCF to allow us to continue our work of helping the most vulnerable countries."
The second GCF replenishment was launched during the 33rd meeting of the GCF Board in July 2022. The process includes consultation meetings with potential contributors, Board members, and observers, and will culminate in a high-level pledging conference on October 5, 2023, in Bonn, Germany.