A three-day intensive climate change dialogue organised by Wilton Park, an executive agency of the UK Foreign and Commonwealth office in partnership with Africa Climate Reality Project, took place from March 18 to 20, 2019 in Magaliesburg, South Africa. The dialogue, themed "Alternative Africa Climate Week: 40 Under 40 To Build Resilience", compiled a group of Africa youth environmental activists, policy researchers and advocates, technical and financial experts, curators and innovators who are leaders in their field alongside their fellow counterparts from the UK.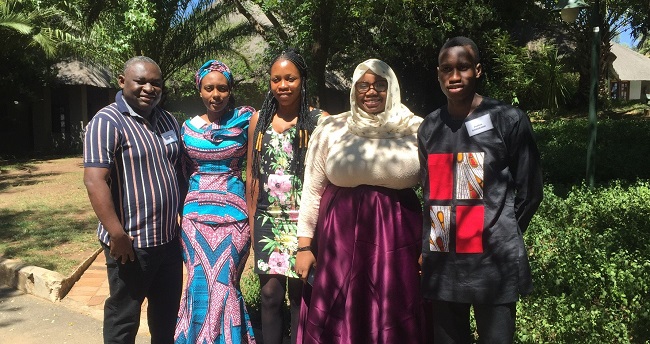 These next generation leaders came together to deliberate key policy issues that will hasten sustainable development and fortify resilience in the fight against catastrophic climate disasters that are intensifying. The dialogue focused on integrating infrastructural and economic resilience, enhancing access to market mechanisms involving climate finance, energy and technology capitalisation to conceptualise resilient development. Critical issues, particularly the climatic impacts on agriculture, biodiversity, food security, transportation, and urban living, were duly highlighted.
The dialogue provided a platform to discuss issues from the global impacts of climate change to building regional responses to withstand climate vulnerabilities and building resilience to reduce disaster risks. Discourse were capped with participatory sessions in which participants actively dissertate theme issues allowing for persons to share insight and experiences.
This highly interactive dialogue saw intelligent, determined and capable individuals contributing to and leading the climate fight come together to achieve a common goal of building resilience to advance development and reduce risk of exposure to negative climatic impacts.
My biggest takeaway was the "Making Global Issues Local" presentation by Diana Njern – Project Director, BBC Media Action, Nairobi. She immaculately simplified how to create awareness of climate change in local and indigenous communities whilst also adhering to their cultures and way of life. The presentation is one that can be applied in any community by using media to portray significant messages.
This resonates deeply with me because my work is mostly in local communities and villages where I work with local farmers in drought-prone regions providing them with alternative ways of sustainable agriculture through agroecology and climate smart practices.
Participants also brought stones from individual home countries, a symbol that signifies how climate change is affecting them. These stones were cut into unique shapes and turned into a magnificent work of art by renowned South African contemporary artist, Hanneli Coetzee.
These talks were disrupted by the cyclone that hit Mozambique, causing major concern for climate resilience and disaster preparedness plans. Cyclone Idai ripped through villages and towns in Mozambique, Malawi and Zimbabwe over the last few days, taking over 1,000 lives and leaving a trail of destruction. With winds of 195 km/h accompanied by lashing rains, Idai has already affected millions of people, causing floods, landslides and ruining crops and roads.
More than two million people could have been affected across Mozambique, Malawi and Zimbabwe, and the real death tolls may not be known for many months as the countries deal with a still-unfolding disaster. The port city of Beira, in Mozambique, was hit the hardest, with nearly 80% of homes and public infrastructures destroyed.
This kind of catastrophic disaster stresses for the urgent need to have effective, standardized and accurate meteorological and hydrological services in Africa that can actively forecast weather patterns to support early action and enable better management of risks. Improvement of services, expertise and professionalism in this sector will ensure climate and weather information is applied to build resilience.
Cyclone Idai in its terrors shows that Africa is not immune to natural disasters; and only the worst can be expected from the rapid increase in climate crises worldwide. Tim Donovan, senior international development manager, Met Office, UK and one of the presenters at the Wilton Park's dialogue stated that "Cyclone Idai is a demonstration of what the current climate can do to Africa. The minimum response should be to increase resilience to the current climate, of which Idai is the most current example. I think drought events are also well evidenced and can be just as impactful. A better response would be to increase resilience to a future climate, that is well understood by IPCC projections and available through Met Services."
Continuous fossil fuel production and resource extractions may not be in the favor of Africa in the coming years. Now more than ever presents the urgency to divest from fossil industries and adapt to the clean and renewable energy that will integrate development and put us on a global fold of the future. Building climate resilience and pioneering infrastructural adaptive measures should be Africa's foremost priority in order to ensure safety of the people.
During the Wilton Park dialogue, I stressed the need for community inclusion and ownership along with acknowledgement of rights of the people when building resilience. Augmenting resilience with rights‐based thinking can situate resilience practice, such that it responds to the complexity of social arrangements, reducing risk and social conflict.
Africa is a diverse continent and most of her population live in rural communities and villages, to strengthen resilience we must respond to these issues taking into perspectives the need of the people by considering their cultural beliefs, social values, and ways of life.
By Nasreen Al-amin, Executive Director, Surge Africa – Nigeria