The Lagos Chapter of the Nigerian Institution of Civil Engineers (NICE) has advised Nigerians to strictly adhere to construction and safety rules in civil engineering infrastructure and facilities management to avert the menace of building collapse in the country.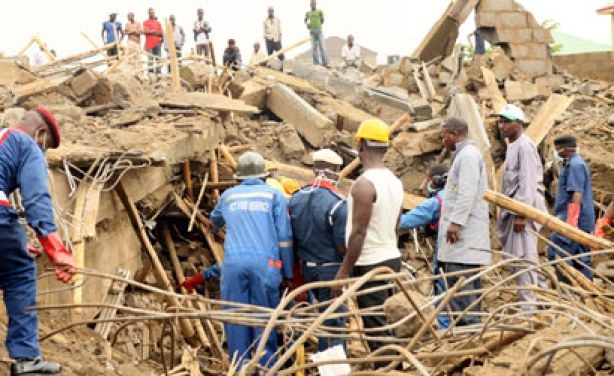 Chairman of the Institution, Mrs Lola Adetona, gave the advice during the second edition of the institution's awareness walk tagged "Walk for Stability" in Lagos.
The walk, which started at about 7:00am from the Lagos State Fire Service headquarters in Alausa, saw participants going through Ikeja to Opebi-link Bridge and Toyin Street to Allen Avenue, and then back to Alausa Fire Station in a four-hour walk.
NICE embarked on the walk in collaboration with the Lagos State Safety Commission, Lagos State Building Control Agency (LASBCA), Lagos State Fire Service and Lagos State Material Testing Laboratory.
Adetona said that many people had lost their lives due to carelessness, violation of construction rules and negligence of construction site safety tips.
According to her, the walk provided networking opportunities which guaranteed an enduring working and social relationship among participants and members of the institution.
She said it was also an opportunity for the members to bond, socialise and learn from one another.
"The walk is used to advocate to the public the need to obey construction rules and regulations and engage the services professionals in building constructions.
"The walk is growing bigger and better as we now have more participants and partners compared to the number recorded last year.
"And the whole essence is to courage healthy living and safe construction as we walked for over three hours creating awareness to residents of Lagos on the need to live safe and build right.
"I believe that awareness is key; people should shun the practice of using quacks, road-side engineers and substandard materials for building constructions because these are the major cause of building collapse," Adetona said.
The Director General of Lagos Safety Commission, Mr Lanre Mojola, reiterated the commitment of the state government to attend a zero per cent tolerance of all forms of accidents in the environment.
Mojola said that the rate of building collapse had reduced to a great extent, stressing that more efforts needed to be put in place until a zero per cent building collapsed was achieved.
According to him, it is not until a building collapses, before provision will be made for remedies, preventive measures and solutions.
"It is not until a building collapses, we start shedding tears. We need to sit up and continuously push for proactive measures to ensure zero cent per building collapse," he said.
Mojola said it was observed that some operators in the built environment rarely obey the rules, codes and conducts governing the profession.
"Some professionals are obviously cutting corners with the use of substandard products. This is highly unacceptable and must be nipped in the bud.
"In adherence to construction codes and conducts, attention should be given to construction safety measures at sites," Mojola said.
National Vice Chairman of NICE, Mr Tokunbo Ajayi, said that it was more economical engaging the services of certified professionals than to use quacks or road-side operators.
Ajayi said that using quacks entails double expenses because the client stands the chance of spending extra money in repairs and maintenance due to poor and substandard constructions.
"When you engage quacks or non-professionals in the construction of building projects, you stand the risk of losing the land because once a building collapse, the government automatically takes over the land," Ajayi said.