Arshak Makichyan, Russian Fridays for Future activist and one of youth representatives at COP25, was arrested on Friday, December 20, 2019 following a court trial for organising a protest on October 25 in Russia.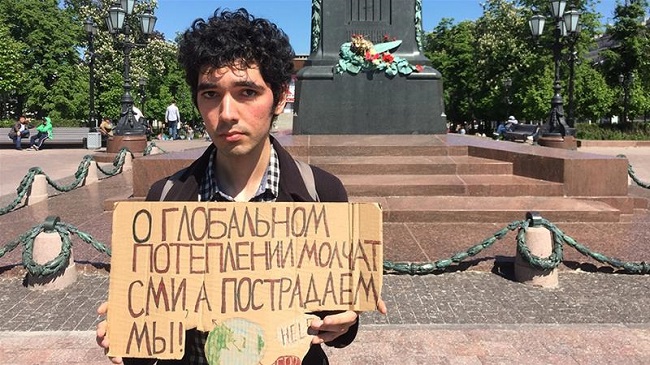 "Despite all the arbitrary circumstances of his arrest, the court has given him a very harsh six-day sentence, which he will serve in a detention centre in Moscow," says Nathalia Clark of 350.org.
According to Arshak's lawyer argument during the court hearing, the activist was denied a permit to protest. He was not given any explanation of this refusal, and instead was offered an alternative location in a remote park, where any protest would be virtually invisible, the lawyer added.
He noted that the three people who coordinated the protest were arrested just minutes after starting it. "The activists have already been denied the right to organise a strike 10 times before the protest that led to their arrest. Moreover, the activists were arrested without a warning or a chance to leave."
On the arrest of Arshak Makichyan, Svitlana Romanko, Managing Director of 350.org in Eastern Europe, Caucasus and Central Asia, said: "Arshak's arrest is an absolutely disproportionate punishment and an act of intimidation towards all climate activists in Russia and across the world.
"We are witnessing the rise of youth and civil society in all regions of the globe, that are challenging the culprits of the crisis we are in. These young activists are doing what governments are not. How dare they act against them, instead of responding to what they are calling for: real climate action.
"They may try to lock us up, but they will not silence our voices. We at 350.org have come to show our support and solidarity with Arshak Makichyan and all imprisoned activists, and we demand their immediate release, on behalf of all the more than 10 million people who stroke for climate throughout the year of 2019."
Arshak also took part in the UN climate conference COP25 in Madrid, where he joined youth activists from around the world to call on politicians to take drastic measures against the catastrophic impacts of climate change.
Since March 2019, Arshak has been striking every Friday to draw the attention of Russian society and politicians to the impending climate crisis.
"Arshak is far from being the only climate activist in Russia. On September 27, more than 700 people took part in climate protests across the country, as part of the strikes' wave that took 7.6 million people to the streets in September," said Romanko.