Farmers in Borno State on Monday, February 19, 2018 in Maiduguri announced plans to unveil rice pyramid sequel to the bumper harvest recorded this cropping season.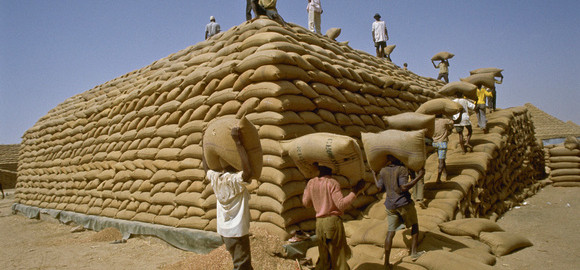 The News Agency of Nigeria (NAN) reports that about 18,000 farmers were supported by the Central Bank of Nigeria (CBN), under its Anchor Borrower scheme in the state.
Anchor Borrower is a critical component of the Federal Government's agriculture transformation programme designed to enhance farmers support services, to achieve self-sufficiency in rice production.
The farmers recorded bumper harvest in spite of combined negative forces of insurgents' attack, drought and pest infestation which ravaged some of the plantations.
Alhaji Kabir Abiso, the Director, Walwanne and Sons Limited, one of the Anchor Borrower clients, disclosed that work on the pyramid had reached advance stage and it would be unveiled soon in Maiduguri.
Abiso said that the pyramid would be constructed with the paddy rice produced by farmers supported under the programme.
"Borno is one of the major rice producing areas; the idea is to showcase the agricultural potentials of the state."
Abiso added that his company had registered over 13,000 rice farmers in various local government areas of the state.
He explained that the farmers were provided with fertilisers; seeds, chemicals, knapsack sprayers, tube wells, water pumps and money for farm labour activities.
Abiso explained that each benefiting farmer cultivated one hectares of land with a six to seven tonnes production output during the raining season in Mafa, Maiduguri, Monguno, Damboa, Hawul, Biu, Kwaya-Kusar and Shani Local Government Areas.
The director added that the farmers were also exposed to modern farming techniques to encourage high yields and reduce wastage.
"More farmers are mobilised and engaged in dry season activity under the Anchor Borrower programme scheme," he said.
Abiso disclosed that the company had so far stocked about 36,000 bags of paddy rice in Biu and Maiduguri.
According to him, the company has concluded arrangement to set up a modern mill, to uptake rice produced by farmers in the state.
While commending the Borno State Government over its farmer support programmes, Abiso called for expansion of the programme to enhance participation.
By Rabiu Sani