Bonn UN climate talks (SB50) ended on Thursday, June 27, 2019 even as some key governments dismissed the opportunity to commit to action and support that is needed to avert loss and damage to protect the most climate vulnerable communities.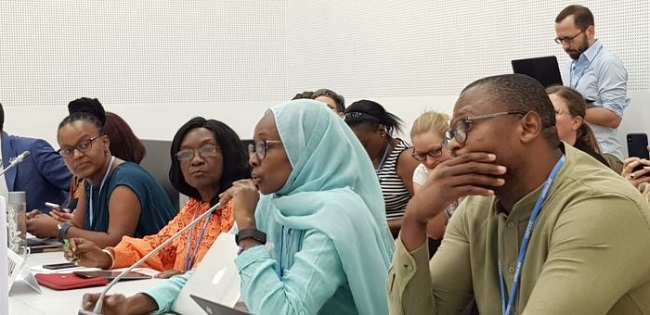 Government delegations from around the world have spent the past two weeks negotiating the remaining technical features of the Paris Agreement. During this session, it has become clear that the good-will and trust built with the creation of the Paris Agreement is waning, with countries still not able to agree on a few of the key issues that are essential for ensuring climate justice.
"The discussions at SB50 completely undermine the severity that climate change is inflicting on vulnerable communities around the world," says Mattias Söderberg, head of ACT's delegation to SB50.
As governments prepare to review the Warsaw International Mechanism on Loss and Damage (WIM) at the climate summit in Santiago de Chile in December (COP25), one thing must remain vivid – climate-induced loss and damage is real and is already happening.
"We understand the connection of the negotiations around loss and damage to the realities experienced by people on the ground well enough to know that the protection gap for the most vulnerable is enormous and life-threatening," says Leia Achampong, Policy Advisor of ACT Alliance.
"SB50 needed to deliver on a robust set of terms of reference for the Review of the Warsaw International Mechanism on Loss and Damage to enable the WIM to operationalise a finance mechanism that could support to those who are living on the frontlines of catastrophic climate impacts. SB50 did not deliver on this," continues Achampong.
Cyclones Idai and Kenneth; the prolonged droughts in Eastern Africa and the Horn of Africa; the heatwave in India; the perennial floods in South East Asia; the dramatic loss of the world's cryosphere; and a myriad of scientific reports persistently confirm that climate-induced loss and damage is a real and present threat to vulnerable communities all around the world.
While parties have difficulties agreeing on how to move forward on the issue of providing support for loss and damage Söderberg reiterates, "the issue of loss and damage is essentially an issue of life or death. It is critical that donor countries urgently mobilise to allocate the resources needed to respond to this issue."
As humanitarian aid is not nearly enough to tackle loss and damage, financial support to address loss and damage must come in addition to any existing commitments for development and humanitarian aid.
The science from the Intergovernmental Panel on Climate Change confirms the need for action, yet science was another critical topic that parties had difficulties to agree on in Bonn. "It is sad that some countries, for example, Saudi Arabia continue to try to undermine climate science by questioning its role in the climate talks," concludes Söderberg.