Fiji on Monday, June 12, 2023, reaffirmed its commitment to the Port Vila Call for a Just Transition to a Fossil Fuel Free Pacific in a statement during a side event at the UN Climate Change Conference in Bonn, Germany. Fiji expressed its support for the call for the negotiation of a Fossil Fuel Non-Proliferation Treaty, a proposed international mechanism that would manage a global just transition away from fossil fuels.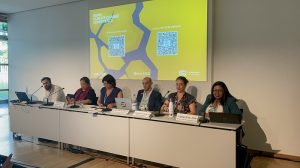 Fiji emphasised the need for greater international cooperation to phase out fossil fuels, which are by far the primary causes of climate change and escalating climate impacts, accounting for 86% of all carbon dioxide emissions in the past decade. As one of the nations least responsible for this crisis, Fiji highlighted the devastating loss and damage they are already facing due to rising sea levels and extreme weather events, calling on nations to urgently join a bloc of Pacific Island nation states in starting discussions for a new treaty.
Genevieve Jiva, from the Government of Fiji, stated: "We cannot afford to delay action any longer. Our climate is radically changing, and with it, our ecosystems, our livelihoods and our cultures all come under increasing threat. The time for bold, ambitious and transformative measures is now. Fiji reaffirms our support for the Port Vila Call for a Just Transition to a Fossil Fuel Free Pacific and in doing so, we join our Pacific neighbours in calling for the development of a Fossil Fuel Non-Proliferation Treaty, to ensure we meet the goals established under the Paris Agreement."
Fiji is no stranger to facing tropical cyclones, yet these events are expected to become significantly more intense and destructive due to climate change. Cyclones bring heavy rainfall, storm surges, destructive winds, and flooding, causing significant damage to infrastructure, agriculture, and communities. The increased intensity of cyclones is already leading to substantial economic losses and the displacement of populations.
Fiji's coral reefs, which are vital for the country's tourism industry and coastal protection, are also threatened by rising sea temperatures. If coral bleaching continues, it can have severe ecological and economic consequences for Fiji, including reduced fish populations, coastal erosion, and decreased tourism revenue. Not to mention the changes in rainfall patterns and increased temperatures, which pose risks to agricultural productivity and freshwater availability.
Tuvalu's Minister of Finance & Economic Development, Seve Paeniu, said: "Tuvalu welcomes Fiji's support, which is in line with calls we have made as a region for decades and which further highlights the fact that despite being on the front lines of climate impacts, we in the Pacific must continue to be at the forefront of climate ambition. A Fossil Fuel Treaty will ensure that we do not cross the 1.5 warming threshold, which is a red line for Tuvalu, Fiji and all Pacific Small Island Developing States who are constantly having to deal with extreme weather events and the degradation of our lands and livelihoods. Tuvalu calls on all countries to follow the example set by Fiji today and commit to addressing the root cause of the climate crisis: Fossil Fuels."
Vanuatu's Climate Minister, Ralph Regenvanu, said: "Vanuatu warmly welcomes Fiji's collaboration in this initiative. As fellow Pacific Island nations, we share the same vulnerability to the impacts of climate change and recognize the urgent need for decisive action. Our commitment to a sustainable and renewable future sets a powerful example to the world. We stand united in our determination to safeguard our shared environment, protect our cultures, and secure the well-being of our people. Only by stopping fossil fuel expansion and embracing clean energy alternatives, we can forge a path towards a brighter and more resilient Pacific. Vanuatu stands beside you, ready to take this transformative voyage together."
Rev. James Shri Bhagwan, General Secretary of the Pacific Conference of Churches, said: "The Pacific Conference of Churches welcomes Fiji's joining the group of states of champions for a Fossil Fuel Non-Proliferation Treaty, pushing for a rapid and just transition away from fossil fuels for the sake of our blue Pacific and our planet. Just over a week ago, the Pacific Church Leaders meeting in the Marshall Islands, endorsed the Fossil Fuel Treaty and called for Pacific countries and those who would be friends of the Pacific to also embrace the call for a Treaty and transition away from fossil fuels, including, in particular, 'access to renewable energy & low carbon solutions for our region.' As church leaders have said, 'climate finance for adaptation, mitigation, loss and damage, and relocation by polluting countries is akin to receiving '30 pieces of silver'' for the betrayal of Pacific Islanders who seek, first and foremost, an urgent phase out of fossil fuels."
Collectively, all 14 Pacific Island Developing States contribute just 0.23% of global greenhouse gas emissions, while being the most vulnerable to their impacts. In contrast, the 15 largest emitters of fossil fuels – a group which includes Australia – together contribute more than 70% of global emissions while claiming to be climate leaders.
The vast majority of Pacific nations do not produce oil, gas or coal. Yet, the region is heavily dependent on imported diesel and petrol for transportation, as well as basic needs and services. This reliance on fossil fuels, whose prices are so volatile, poses severe risks not only to their lives and livelihoods, but also to their economies.
Auimatagi Joe Moeono-Kolio, Pacific Director of the Fossil Fuel Non-Proliferation Treaty Initiative, said: "From securing the 1.5 target in the Paris agreement, to the historic ICJ campaign which saw a unanimous passing in the UNGA, to Fiji supporting the growing call for a Fossil Fuel Non-Proliferation Treaty, the Pacific continues to show the world what real leadership during a crisis looks like and that without greater ambition and vision, we cannot overcome the greatest threat to our planet. Fiji's public support for the development of a Fossil Fuel Non-Proliferation Treaty serves as an example of the leadership this world needs at such a time as this and is a call for governments to unite in recognising the urgency of tackling the root cause of the climate crisis. Without a managed phaseout of fossil fuels, there is no hope of meeting the aims of the Paris Agreement. We stand ready to support the Pacific's vision of a world free from fossil fuels."
The expression of support from Fiji joins other calls made during a United Nations conference, following Vanuatu's historic call for a Fossil Fuel Non-Proliferation Treaty at the UN General Assembly in September 2022, and Tuvalu's public support during COP27 in Sharm El-Sheikh last November. In recent months, they have been joined by the Kingdom of Tonga and now Fiji in formally calling for the development of a Fossil Fuel Non-Proliferation Treaty.
This has been further backed by a bloc of six countries – including Vanuatu, Tuvalu, Tonga, Fiji, as well as the Solomon Islands and Niue – who signed the Port Vila Call for a Just Transition for a Fossil Fuel Free Pacific in March 2023. The diplomatic statement calls for action from Pacific and global leaders to transition to a "Fossil Fuel Free Pacific" as soon as possible. The group of countries is spearheading the global phase out of coal, oil and gas production through key initiatives, including through leading the creation of a global alliance to negotiate a Fossil Fuel Non-Proliferation Treaty.