Hundreds of activists and civil society organisations (CSOs) in South Africa on Monday, June 12, 2023, staged a protest outside Standard Bank's offices in Rosebank, Johannesburg, where the bank held its Annual General Meeting (AGM). The protest aimed to draw the shareholders' attention to the urgent need to question the bank's involvement in the controversial East African Crude Oil Pipeline (EACOP) and demand it publicly withdraws support.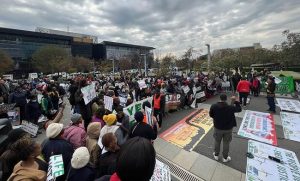 The CSOs and StopEACOP coalition called on Standard Bank to demonstrate leadership by divesting from environmentally harmful projects like EACOP and Mozambique Liquified Natural Gas (LNG) and redirecting its investments towards sustainable, clean energy solutions that prioritise providing energy access to communities.
EACOP is a 1,443-kilometre (897-mile) pipeline expected to transport oil from Uganda to Tanzania. Standard Bank, through its subsidiary Stanbic Uganda, along with the Industrial and Commercial Bank of China (ICBC), are acting as financial advisors to the project.
Mozambique LNG in Cabo Delgado, led by TotalEnergies, has displaced thousands, fuelled conflict and created climate destruction before it has begun. Standard Bank is the financial vehicle and has financed the project with $485 million. The bank has also so far refused to rule out financing the third LNG project in Mozambique: Rovuma LNG.
Similarly, in Tanzania and Uganda, the detrimental impacts of EACOP are reportedly evident, even before the physical construction of the pipeline begins. Communities have experienced the irregular loss of land, undermining livelihoods and exacerbating land degradation. The mere presence of EACOP is said to have caused disruption, fear, and uncertainty among local populations who rely on the land for their sustenance and cultural heritage.
According to the campaigners, the pre-construction phase highlights the urgent need for Standard Bank to withdraw its support, as the project's continuation would only amplify the negative consequences, further jeopardising the well-being of communities and the fragile ecosystem. They urge the bank to recognise the alarming implications of EACOP and take a responsible stance to protect both people and the environment.
During the AGM, when confronted by a question from 350Africa.org, Standard Bank CEO Sim Tshabalala appeared to confirm that the bank "will be providing finance directly" to the EACOP project.
However, when asked for further clarification, the bank's Chair, Nonkululeko Nyembezi, responded that in fact no decision had yet been taken on financing the controversial project, saying "What you are hearing perhaps is directionally how personally I am leaning".
The activists believe that these remarks, when taken together, serve as a compelling indication yet that Standard Bank is serious about lending to EACOP in spite of the huge levels of opposition on display outside the meeting.
Ryan Brightwell, Director of Communications and Research, BankTrack, said: "On the evidence of today's AGM, Standard Bank still doesn't get that financing EACOP poses huge risks, not just to the communities it is supposed to serve, but also to the bank itself. This is why their co-advisers SMBC have stepped away, and 25 other major banks have declared they won't touch the project. The bank protests outside the bank's annual meeting are getting larger yearly – they would be well advised to listen."
Charity Migwi, Regional campaigner, 350Africa.org, said: "The financial institutions supporting the fossil fuel industry are fuelling the climate crisis. These institutions must reconsider their responsibility to the communities within the areas in which they work, which are on the frontlines of the climate crisis, experiencing extreme, crippling weather events. Rather than expose communities to the harmful effects of projects such as EACOP, we call on Standard Bank and other banks involved in the East African Crude Oil Pipeline to abandon the project and instead inject financing into safe, sustainable community-centred renewable energy solutions to foster a just transition away from fossil fuels in Africa."
Zaki Mamdoo, Coordinator, Stop EACOP coalition, said: "With a powerful collective of South African activists and community organizations raising their voices to demand Standard Bank's withdrawal of support for EACOP, it is long overdue for the bank to pause and genuinely listen. They cannot assume they can sponsor the destruction of other African nations without intervention from South Africans. Today, their misconception has been shattered – our actions against Standard Bank will only intensify until they fully abandon EACOP and all similar projects."
Makoma Lekalakala Director, Earthlife Africa, said: "Standard Bank has to wake up to the reality that gas and oil are not and cannot be transitional fuels towards a low carbon development. We urge the bank to divest from financing fossil fuels and invest in future energy in renewable energies. The people of Uganda and Tanzania deserve to live in an environment that allows them to enjoy their rights to clean air and sustainable livelihoods."
Diana Nabiruma of the Africa Institute for Energy Governance in Uganda says: "The argument that Standard Bank repeatedly advances when questioned over continued financing of fossil fuel projects that they are doing so to promote economic development and address energy poverty is erroneous. Available evidence indicates that frontline communities suffer economic setbacks due to losing their land and other economic assets, which aren't compensated adequately and fairly. Oil producing countries such as Nigeria also have the greatest number of people without access to electricity and most of the oil from Uganda and gas from Mozambique is meant for export."
Anabela Lemos, Director Justiça Ambiental (JA!)/Friends of the Earth Mozambique says, "As a financier of TotalEnergies' $24 billion Mozambique LNG, Standard Bank is complicit in its devastation and fuelling a war that has left thousands dead and a million displaced. Entire communities in Cabo Delgado have been displaced and lost everything, a UNESCO Biosphere will be destroyed and emissions just from the construction phase will irreversibly damage the climate. With the project still on pause, Standard Bank has the opportunity, and the responsibility to stop enabling violence and pushing the country even deeper into a debt spiral by cancelling its financing."