Minister of Environment, Amina J. Mohammed, has said that Nigeria is ready to deploy biotechnology to boost the nation's economy.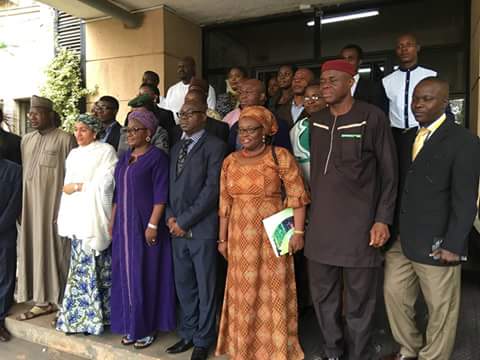 She told media executives at the close of a courtesy visit to her office in Abuja on Tuesday by a delegation of the Open Forum on Agricultural Biotechnology (OFAB) in Africa Programming Committee (PC) that Nigeria is blessed with experts in biotechnology, and that the National Biosafety Management Agency (NBMA) is there to ensure safety application of the technology.
In a statement endorsed by Dr. Rose Maxwell Gidado, Country Coordinator of OFAB, the minister reportedly revealed that biotechnology has a big role to play in the Great Green Wall project, "which has started and has an agency that is at the forefront to ensure that it is line with AU initiative."
"We have 1,500 kilometers across and 15 kilometers deep, what we need to do is to make that corridor, an economic one, not just trees but economic trees, jobs for people, how we can deal with energy solutions, connecting services within agriculture, not just stopping the desert but reclaiming the desert," Mrs. Mohammed was quoted as saying.
"The National Biotechnology Development Agency (NABDA) can come in the area of economic trees. The gestation period for trees used to last for three, four years but today we are looking at eighteen months or less, that is biotechnology, this is where we need collaboration to ensure that we are able to do things quicker than usual, but we have to ensure safety and transparency in what we do. There are always good and bad sides, and we must take care of the bad side," she adds.
Speaking on safety issues, the minister discloses, "We need more research and we need to listen to people where they have concerns, we have to answer those frequently asked questions because without responding to people's concerns, we are leaving perception of not caring or not doing our homework. We have to be more open to people and transparent to everyone, also hear everyone's concern and address them, with Biosafety Agency in place; we can begin to do that."
Cautioning the Biosafety Agency, she underlined the need for education, saying: "Education is key; ignorance brings fear, opposition and pushes back things that are good for us. But with education, it is taken care off. Those involved in carrying people forward in the world of science forget and leave many behind and which becomes a challenge.
"I am grateful you are all here, helping us understand GMOs better. The administration under (President Muhammadu) Buhari is clear on diversification. NABDA is key, and has a role to play in the agricultural sector, that is why the agency needs to educate the public. We all need to collaborate to make every Nigerian feel comfortable about the technology. Many people need to be carried along. At the moment, there is drought in Ethiopia, which could also affect other African countries and that's why the technology is being considered for use to overcome this drought challenge. Nigeria needs to prepare ahead. Nigeria needs to button up but safety must be ensured," she enthuses.
In her remarks, the Director-General of NABDA, Professor Lucy Ogbadu, highlights the challenges facing the country in the area of agricultural food production, which she stresses is characterised by low productivity due to pest and insects' infestation; desertification, gully erosion, flood, micronutrient deficiency, and coupled with population increase.
Nigeria needs to adopt and embrace biotechnology, she declares, adding that transgenic varieties of crops are more productive, precise in gene transfer, as they overcome the limitations of traditional breeding and allow scientists to use new traits from many kinds of plants and other living things.
Prof. Ogbadu lists the secondary benefits to include: reduction of carbon emission, soil degradation reduction, water conservation, nitrogen fertilizer usage, enhanced bio-fuel production, and reduced use of pesticides.
Concluding her presentation, she reports that Nigerian scientists have waited for 14 years to have a Biosafety law to operate fully like their counterparts in other countries.
The DG/CEO of NBMA, Mr. Rufus Ebegba, reaffirms his commitment to ensure the safety of modern biotechnology practice in Nigeria and its contribution to the economic growth.
"Nigerians should be re-assured that NBMA will do her best in making sure that any GMO released for commercialisation is safe for consumption and possess no threat to human or environment," he assures.