Nigeria's wildlife reserve is facing threat of depletion due to continued illegal hunting and smuggling, thus denying the country huge revenue in tourism, as well as putting exotic flora and fauna at risk of extinction.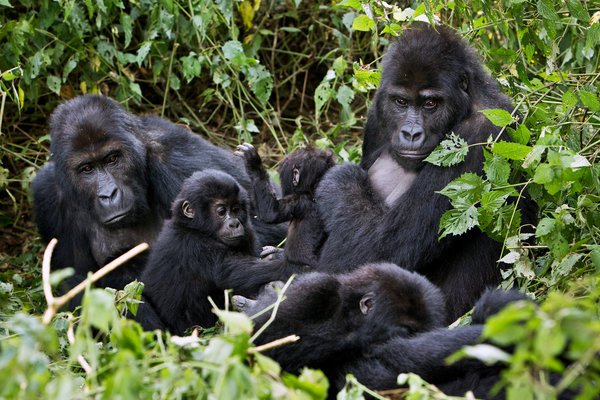 Lamenting the extent of damage on Nigeria's wildlife, the Lagos Office of the Federal Ministry of Environment said in a recent publication: "The booming illegal trade in wildlife products is eroding the earth's precious biodiversity, robbing us of our natural heritage and pushing whole species towards extinction, as well as undermining economies, fueling organised crime and feeding corruption and insecurity across the globe."
Poachers with sophisticated weapons are said to have managed to enter protected areas and sanctuaries, killing even endangered animals like the African wild dogs, cheetah, giraffe, and antelopes.
Also threatened are the Cross River gorilla, the drill, and a number of smaller guenons that are found only in Nigeria and Cameroon forests.
No fewer than 100,000 elephants are believed to have been killed by poachers within the African continent in the last three years and many of them in Nigeria.
The use of wildlife body parts in making expensive fashion materials and accessories, such as jewelries, shoes, belts, bracelets, bags and others, is one major reason for the large wildlife trade, which is considered the fourth most lucrative global crime after drugs, human and arms, with annual trade value of between $5 billion and $20 billion, based on the publication by the Nigeria Ministry of Environment.
To check this ugly trend in Nigeria, experts say, the masses should not only guard their forests and government protected areas in their communities against poachers, but also go a step further by rejecting fashion accessories that are made of body parts of wild plants and animals.
Director Forestry Department of the Federal Ministry of Environment, Dr. Elizabeth Ekhibewele, who regretted that visits to important wildlife spots revealed extensive depletion of wild animals, which she said signaled a great loss to the government and the communities. According to her, such parks and sanctuaries used to flourish with assorted exotic organisms such as zebra, elephants, and gorillas.
"We visited a wildlife park and I wept. It was virtually empty. Poachers go to the bush, they kill all animals. They kill pregnant elephants, kill young elephants. They go to the bush, they kill any mammal. They are not thinking of the future. As far as they are concerned, it is the money," she lamented.
Stressing that illegal wild life traffickers succeed because they have collaborators in the affected communities, Dr. Ekhibewele further explained that the Nigerian government is not completely banning trade on wildlife, but wants it to be done in a sustainable manner that benefits everybody.
"We are not saying that wildlife should not be traded on at all, we say let it be done in a sustainable manner. Wild life trade must be managed; it must be governed. When the trade is legal, it must follow the procedure. Even in your house, if you want to sell something, you don't sell everything. You select the good ones and leave the rest. That is also applicable to wildlife. Otherwise you just wake up one day and observe that the organisms have all gone into extinction.
"The forests and its wild animals and plants do not belong to us. We inherited them. We should also not destroy them to benefit our children, grandchildren and great grandchildren. That is the awareness we are creating."
Pride in the choice of fashion fabrics and accessories especially by among young and averagely aged women, is pointed as a setback to the fight against illegal trade in endangered species.
These women as well as some fashionable men can go to any length to ensure their outfits outshine those of others at occasions.
To achieve their aim, they go for very expensive necklaces like those made of ivory from elephant, as well as shoes and others that are made of the scales of crocodiles and other wild animals.
A young woman, Mary Williams, who works in a government establishment, parades an animal skinned bag, worth over N500,000.
She said, "I just like looking good. Some of these things, I buy them abroad. They cost a fortune in Nigerian shops, if at all you will see them. Though it is expensive, you just need it to compliment your status."
However, given the hardship in the country, most of the "big ladies", reportedly go for fashion materials and accessories, made from refined animal materials.
"Original leathers are very expensive, so most women go for bags and shoes that are made of refined animal skins and parts. But, if there is money, I personally would go for the original leather. But I just make do with what is available," remarked Mrs. Ifeyinwa Ojiego, a Lagos resident.
A campaigner on wildlife protection, said that young people, especially ladies, should begin to overlook bags, belt, shoes and others, that are made of wildlife skins and scales, to discourage the producers of such accessories.
"For the young ladies who want to be Miss Nigeria, Miss Universe and others, you don't have to wear leathers of crocodile skin before you are beautiful and important. The Nigerian fabrics like the Ankara look very astonishing and can be designed into different styles, good enough for the best occasion in the world."
The campaigner stated that the time has come for all to start acting to protect wildlife, not just by making speeches at workshops and seminars.
Her words: "It is time to take the right decision. Not just to say no illegal wild life trade only by speech but taking little action.
"For the children, there are basic actions that you can take. Start as little as caring for the environment where you are. If they bring the kind of bush meat that is on the verge of extinction, reject it. For the regulatory bodies, they have the mandate to work and push so that there is no longer illegal trafficking of wild life."
Many others believe that it is high time that Nigerian masses showed greater commitment in their support towards protecting the country's wildlife reserve.
They said this support is needed now more than ever before that the country has launched a new national re-orientation campaign called "Change begins with me" which, among other things, enjoins every Nigerian to show utmost patriotism to his or her fatherland, to check criminality, corruption and build the economy.
The patronage of fashion materials that are made from skins of goats, cows and other domestic animals, is required from the masses to accelerate growth of the manufacturing sector and at the same time protect endangered animals.
According to the chairman, Nigeria Tanners Council, NTC Alhaji Lawan Sule Garo, Nigeria has among the highest quality hides and skin in the world, especially, the skin-red leather made from goats. He said all that is needed is government support to take the industry to the next level.
"There is a need for government to encourage both local and foreign investors to establish manufacturing companies that would be readily available to use processed leather to produce high quality goods such as shoes, bags and belts, which are imported from Europe and North America.
"We have reached the peak in manufacturing top leather. We can compete with developed countries. What we need now is go to the next level, and that is production of shoes, belts, bags and other products using leather as raw material. Tannery industry remains one of the oldest industries in Nigeria and has continued to generate employment for old and young, particularly, in the north-west part of Nigeria. Currently, Kano State has about 20 functional tannery firms, the largest and most efficient industry, with over 25,000 employed."
Chief Executive Officer, Nigerian Export Promotion Council (NEPC), Segun Awolowo, who also called for government support to fully develop the country's leather industry, had announced that Nigeria exports hide and skin worth $800 million annually.
"Even with its touted climb in the economy's ladder as Nigeria's second foreign exchange earner, the leather industry still faces enormous challenge. There is the need for the Federal Government to inject adequate resources to stabilise the sector as well provide an enabling environment for manufacturers and investors in the industry to thrive," he said.
Though majority of Nigeria's hides and skins tend to come from cow and goat, wild animals and plants are reportedly being killed for their skins and they include crocodile, buffalo, elephant and zebra, all prohibited by the Convention for International Trade on Endangered Species of Fauna and Flora (CITES), that the country is signatory to.
Attitudinal change towards embracing locally-made goods and services should be adopted. Skins from goats which are sustainable should be promoted, through grants to farmers and to investors to build world-class tannery and leather industries.
By Innocent Onoh